106.7 The Point FM is the home for today's top hits!
Our local on air talent has a passion for bringing you information about Aberdeen, as well as providing you the soundtrack to your day.

Get to know our station and on air talent:
Ben Root
Sports Director/Announcer & Voice of Northern State University
Mr. Root was born and raised in soCal, moving from the Inland Empire to the incomparable Orange County in his single-digit years. After obtaining an engineering degree, he learned that the big money was in radio… or not. Ben earned a broadcasting degree with a sports emphasis and took his first full-time on-air gig as a DJ in Washington in 2006. After positions as a News Director calling high school sports in Wyoming, a Sports Director with a morning show in Nebraska, and another stint as a DJ in Washington, Ben found his way to Milbank, South Dakota, in 2010. He slid over to Aberdeen in 2011 and is now the Sports Director and the Voice of the NSU Wolves.
You might see Ben playing volleyball in a local league at Wylie or the Y, catch him playing disc golf, or see him walking the dog around town. He lives in Aberdeen with his wife Jennifer and their Beagle mix, Bridget Bones. Ben cheers for Orange County teams, and since his dad is a Michigan native, he roots for them as well.
Catch Ben from 6 – 10 am on Pheasant Country 103, 10 am – 2 pm on 106.7 Point FM, and in the Sports Hub on 930AM-KSDN-102.1FM weekdays from 10 – 11 am. You can reach him at (605) 229-3632 or by email at ben@hubcityradio.com.
ben@hubcityradio.com
Rusty Rokit
Webmaster/Announcer/Production Director
Catch Rusty Rokit 6 am – Noon on 106.7 Point FM and Noon – 7 pm on 94.1 The Rock. Plus, Rusty's got the new rock Saturday nights from 8 pm – Midnight during Rev It Up & Rock on 94.1 The Rock.
You can reach Rusty at (605) 229-3632 or Rusty@HubCityRadio.com
rusty@hubcityradio.com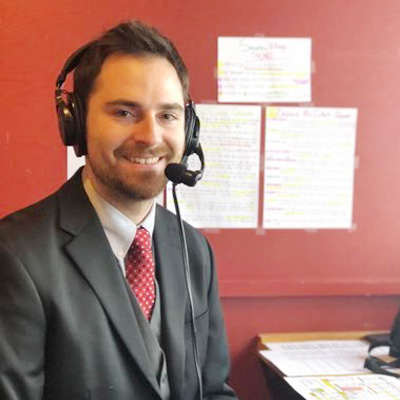 David Tukesbrey
Announcer/Sports Assistant & Voice of Presentation College
David Tukesbrey was raised in Libertyville, Illinois and went to college at Marquette University in Milwaukee, Wisconsin. He graduated in four years with his broadcasting and electronic communication degree from the William and Mary Diederich College of Communication. He was the Sports Director at Marquette Student Radio and broadcast basketball for the men's and women's basketball teams. He also traveled around the country with the women's soccer team as the voice of the women's soccer team.
After college, he worked at 620 WTMJ in Milwaukee, WI as a producer. He was one of the first broadcasters on WISports.com calling play-by-play for local high school athletics on a brand new platform on the Packers, Brewers and Bucks flagship station. From Milwaukee, he moved to Sisseton, South Dakota and was the sports and program director for KBWS. After nearly a year in Roberts County, he was hired on to be a part of Hub City Radio in Aberdeen, SD.
He has been calling play-by-play since 2005; he has broadcast football, basketball, baseball, soccer, volleyball and hockey.
Previous broadcasting experience:
Play-by-play & sideline reporter: Libertyville High School (basketball and football)
Play-by-play: Marquette University (basketball, soccer)
Play-by-play: Concordia University (WI) (football, baseball, hockey, soccer)
Play-by-play & sideline reporter: Racine Raiders (football)
Play-by-play: WISports.com (football)
Play-by-play: KBWS 102.9 FM (football, basketball, volleyball)
Catch David weekdays on the Hot Mess Express with Tukes 6 – 10 am on 106.7 Point FM, 10 – 11 am during The Sports Hub on 930AM-KSDN-102.1FM, 3 – 9 pm on Pheasant Country 103.7 and calling Presentation College Athletics on 930-KSDN-102.1.
You can reach him at (605) 229-3632 or by email david@hubcityradio.com.
david@hubcityradio.com