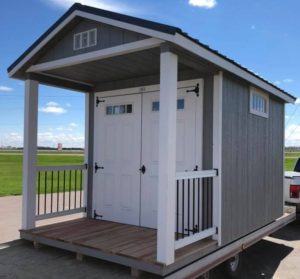 This Summer Hub City Radio is giving you a chance to win with the He Shed/She Shed Giveaway!  Stop into participating businesses throughout the Summer to register.  We'll draw one qualifier from each location to go into the final drawing to be held later this Summer to win the shed!  Use it as a He Shed or She Shed outdoor getaway, a tool shed, storage shed, whatever you've got in mind!  Deck out your new shed with supplies from local Aberdeen Chamber member businesses with a $500 Aberdeen Gift Card!  It's the Hub City Radio He Shed/She Shed Summer giveaway! Stay tuned to your favorite Hub City Radio station and this page for more locations to sign up all Summer long!

Sign-up locations include:
Saturday, June 15-Friday, June 21 – Harr Motors Bargain Center
Thursday, June 27-Friday, July 5 – New Star Fireworks
Monday, July 15-Friday, July 19 – Graham Tire
Monday, August 5-Friday, August 9 – State Farm – Dustin Miller
Many more locations and dates will be added! Stay tuned for details!
Current Qualifiers:
Graham Tire Monday, May 20-Friday, May 24 – Joan Kukrall
Dakota Motorsports Saturday, May 25-Friday, May 31 – Kurtis Lloyd
Black Knight Pools, Spas, Games, & Things – Saturday, June 1-Friday, June 7 – Laurie Baumgartner
Schwan's Recreation Saturday, June 8-Friday, June 14 – Brooke Lacher