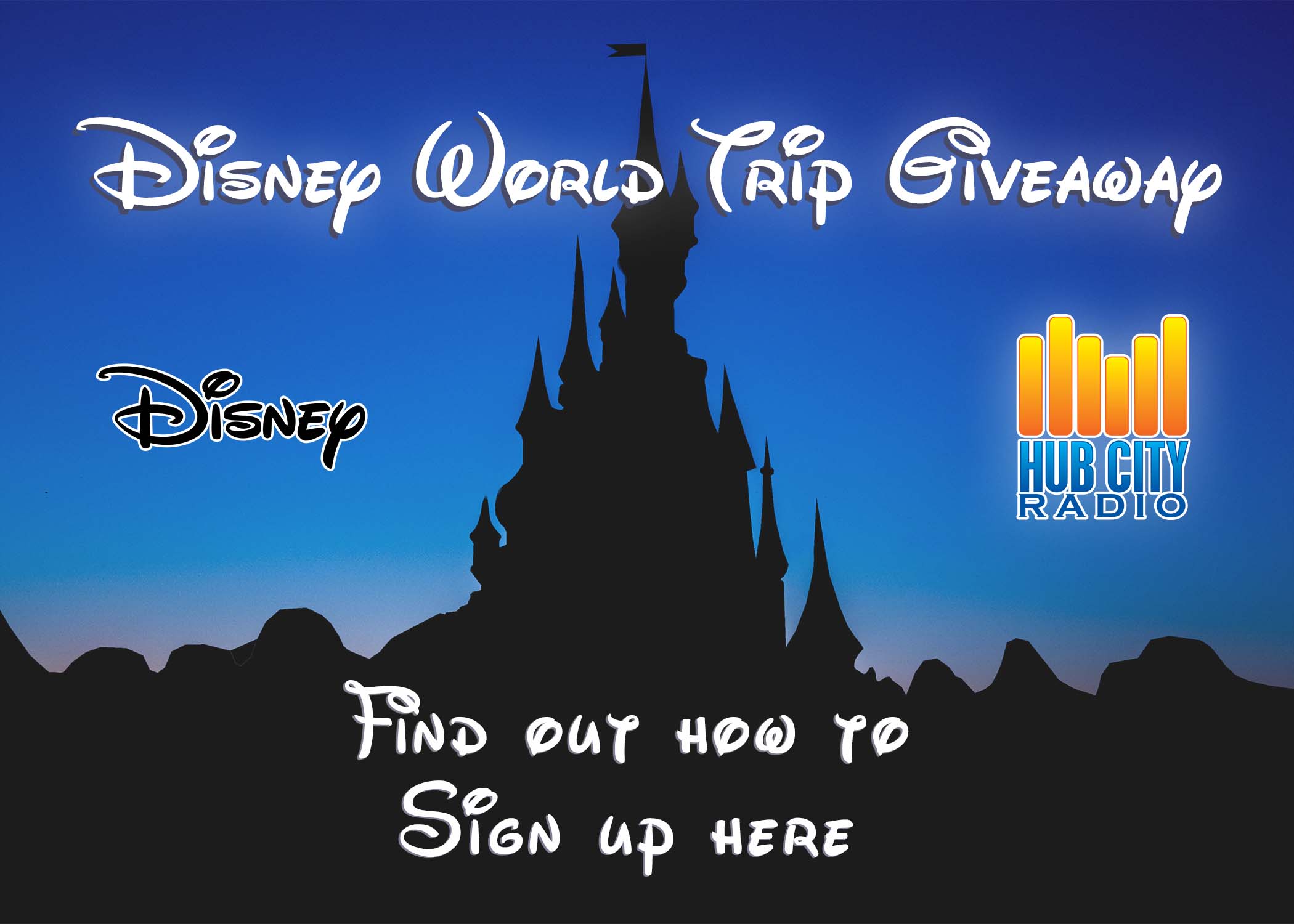 - Qualifiers will be picked every Monday
Disneyworld is celebrating its 50th anniversary this year, and Hub City Radio wants to send you there to celebrate! We're giving away a free vacation to Disneyworld that will include round-trip airfare for four to Orlando, four nights at a hotel right outside Disneyworld, and four three-day Park Hopper passes. Register NOW at participating sponsors, and each Monday, we'll draw a qualifier from each location to go into the final drawing this July! Boxes will be emptied after each drawing, so register weekly! Find out where YOU can register today at HubCityRadio.com!
Sponsors include:
 Head Over Heels
Cost Cutters
Finishing Touch Design Studio
Northeastern Dental Center
Karisma Boutique
Ken's SuperFair Foods
Culvers
Mainstream Boutique
Rain Forest Casino
Qdoba
Giveaway Rules:
All decisions of Hub City Radio are final.
Must be 18 years old or older to sign up.
Only one trip for 4 will be given away.
Hub City Radio employees, family members of the employee or extended relative or relationship of the employee are not eligible to qualify or win any prizes with this promotion. Employees of sponsoring business are not eligible to qualify at their place of employment.
Only one final qualification per person through the life of the contest.
Any incidentals/fees/taxes occurred are the responsibility of the winner.
Contest's qualifications to participate in the promotion are unique opportunities at each event; time dates and place of the contests are at the discretion of Hub City Radio. The number of qualifiers at each event is at the discretion of Hub City Radio.
Number of qualifiers is at the sole discretion of the radio station.
Rules are subject to change without notice.
First round of Qualifier's from May 16th, 2022
 Northeastern Dental Center: Camilla Kaul
Head over Heels: Wanda Gelling
Mainstream Boutique: Carla Smith
Ken's SuperFair Foods: Tricia Mortensen
Qdoba: Micky Brick
Finishing Touch Design Studio: Tricia Smid
Cost Cutters: Doug Vilhauer
Culvers: Topanga Large
Rain Forest Casino: Melissa Lahomer
Karisma Boutique: Jon Johnson
Second round of Qualifier's from May 23, 2022
 Northeastern Dental Center: Bryon Cunningham
Head over Heels: Jim Johnson
Mainstream Boutique: Cindy Herr
Ken's SuperFair Foods: Amanda Kunkle
Qdoba: Chris Anderson
Finishing Touch Design Studio: Rocky Currington
Cost Cutters: Carmen Trottier
Culvers: Jeff Malsam
Rain Forest Casino: Scott Ritter
Karisma Boutique: Robert Coyle III
Third round of Qualifier's from May 31, 2022
 Northeastern Dental Center: Diane Hansen
Head over Heels: Judy Dosch
Mainstream Boutique: Vicky Sieben
Ken's SuperFair Foods: Brad Reecy
Qdoba: Kiersten Clark
Finishing Touch Design Studio: Sheldon Finley
Cost Cutters: Jeremey Sampson
Culvers: Ian Prouse
Rain Forest Casino: Jolene Zahn Gilles
Karisma Boutique: Jennifer Aman
Fourth Round of Qualifier's from June 6, 2022
Northeastern Dental Center: Cindy Meyers
Head over Heels: Kathy Boschee
Mainstream Boutique: Mary Gjernes
Ken's SuperFair Foods: Jolene Siders
Qdoba: Michelle Metzinger
Finishing Touch Design Studio: Robert Sanderson
Cost Cutters: Donna Rausch
Culvers: Ashley Bruzek
Rain Forest Casino: Ashley Arnott
Karisma Boutique: Tinley Nilson
Fifth Round of Qualifier's from June 13, 2022
Northeastern Dental Center: Kalli Jo Youngblom
Head over Heels: Heidi Sylte
Mainstream Boutique: Cindy Hahler
Ken's SuperFair Foods: Ginger Walberg
Qdoba: Bethany Latterell
Finishing Touch Design Studio: Cambry Dinger
Cost Cutters: Audra Griebel
Culvers: Delores Morsching
Rain Forest Casino: Mel Fallis
Karisma Boutique: Braxton Farmen
Sixth Round of Qualifier's from June 20, 2022
Northeastern Dental Center: Ray Peterson
Head over Heels: Katie Kirschenmann
Mainstream Boutique: Amber Samdue
Ken's SuperFair Foods: Linda Buzalsky
Qdoba: Rebecca Graves
Finishing Touch Design Studio: Nellie Hatfield
Cost Cutters: Ellen Schlosser
Culvers: Paulette Preszler
Rain Forest Casino: Jenn Jurgens
Karisma Boutique: Ashley Brockhouse
Seventh Round of Qualifier's from June 27, 2022
Northeastern Dental Center: Laura Arth
Head over Heels: Tina Aberle
Mainstream Boutique: Breanne Christensen
Ken's SuperFair Foods: Pat Schroeder
Qdoba: Mary Kaven
Finishing Touch Design Studio: Sue Petersen
Cost Cutters: Debbie Berglund
Culvers: Christyl Forsyth
Rain Forest Casino:
Karisma Boutique: Sara Boon
Eighth Round of Qualifier's from July 5, 2022
Northeastern Dental Center: Kyle Aumet
Head over Heels: Derene Milla
Mainstream Boutique: Jenny Miles
Ken's SuperFair Foods: Drew Dennert
Qdoba: Tom Thurman
Finishing Touch Design Studio: Tyrone Powell
Cost Cutters: Breanna Locke
Culvers: Hope Joachim
Rain Forest Casino: Bobbi Bateman
Karisma Boutique: Amanda Sperry
Ninth Round of Qualifier's from July 11, 2022
Northeastern Dental Center: Lin Sanderson
Head over Heels: Mysty Schaunaman
Mainstream Boutique: Jamie Forrest
Ken's SuperFair Foods: Tammy Gardner
Qdoba: Jess Dillarou
Finishing Touch Design Studio: DeeAnn Job
Cost Cutters: Leon Herrick
Culvers: Becky Stanek
Rain Forest Casino: Vickie Salo
Karisma Boutique: Sarah Keen
Tenth Round of Qualifier's from July 18, 2022
Northeastern Dental Center: Jeri Smith
Head over Heels: Cameron Mikkelson
Mainstream Boutique: Allison Daniel
Ken's SuperFair Foods: Tara Holler
Qdoba: Mike Denault
Finishing Touch Design Studio: Cher Schwindt-Stern
Cost Cutters: Mandy Burnett
Culvers: Dana Stillman
Rain Forest Casino: Laurie Osness
Karisma Boutique: Ryan Casey