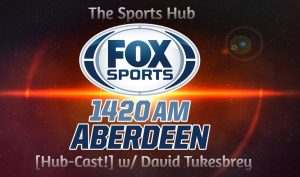 ABERDEEN, SD (HubCityRadio.com) – As the days continue to get longer, the summer months are just around the bend. On Thursday nights at Dahme Lake, Todd Thorson coaches up the Aberdeen Aqua Addicts and they're preparing for their 'full' season opening on Thursday (6/15).
One thing that's quite unique about the Aqua Addicts is that there is acting & dancing that goes along with the show on the water. This year marks year two for their 'Dumb & Dumber' movie theme:
Given all the snowfall from this past winter, the water levels at Dahme Lake rose. Normally, the squad would have multiple practices & events already under their belts, but this year, they've had a delayed start.
For somebody who's never been to see the Aqua Addicts, Todd Thorson tells people what to expect.
The Aqua Addicts perform at 3301 South Hwy 281 Aberdeen, SD. Tickets can be purchased at the gate for just $3 for children & students and just $5 for adults. The show begins at 7p at Dahme Lake.
You can listen to the full conversation with Coach Thorson by clicking the link HERE: https://www.facebook.com/FoxSportsAberdeen/videos/565749888969110
Earlier in the program, David Tukesbrey caught up with the head coach of the Northern State Soccer squad, Bob Casper. He talked about the squads successful 2022 season & is very optimistic for the fall of 2023. That full conversation can also be heard by clicking the link above.