Our local on-air talent has a passion for bringing you information about Aberdeen, as well as providing you the soundtrack to your day.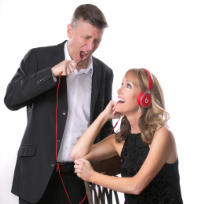 Kevin and Taylor
On Air Talent
Kevin and Taylor have hosted one of the most consistently successful music morning shows in Atlanta for over 15 years. With a blend of encouraging music, real life conversations, and good clean fun, listeners will feel like Kevin and Taylor a part of their own families.
They've been recognized with numerous industry awards including Radio and Records Personalities of the Year and "Best Morning Drive Show" by the Atlanta Journal Constitution.
The show is first and foremost a place that is safe for the whole family. A show that moms and dads can listen to and be entertained with music and content that's relevant to their life and enjoyable for their family. The best part is there are no changing stations to avoid topics the kids in the car shouldn't hear.
Caryn Cruise
On Air Talent
Caryn Cruise started her career in Christian radio volunteering at KCVO in Camdenton, Missouri. After four years at the station she moved to KXOJ in Tulsa, Oklahoma. For the last eight years she's been and done everything from evenings, middays, production director, assistant music director and the occasional radio station tour guide.
When you do meet her, offer her chocolate and you'll become fast friends. She was born on Valentine's Day so if you too have a holiday birthday, that's something else you'll have in common.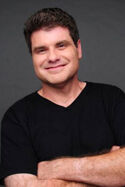 Doug Griffin
On Air Talent
Doug was born in Newport Beach, California and grew up in the San Francisco Bay Area. Doug is fluent in German as he spent his senior year of High School (1984-85) as an exchange student in Minden, Germany. Doug has been on morning radio since 1986, previous stations include: KSOL (where he was the traffic rapper Doug EEE Fresh) & 6 years as "Jungle Doug" on KRTY/San Jose – where he met his beautiful wife, Sheryl.
Doug has hosted a number of Christian Mornings shows (Dick & Doug, Doug & Connie, Doug & Karla). Doug has been the host of "The Family Friendly Morning Show" since 2002 – enjoying a incredible 8 year run with co-host Kim. November 4, 2010 began a new chapter as he welcomed Jaci Velasquez to the morning show. Since 1988 Doug has operated his own mobile DJ business and has served as DJ and MC for countless weddings, parties and special events. Doug's eldest daughter Lauren is married and his son Garic "Baby-Man" Griffin has been a part of his dad's morning shows since he could talk.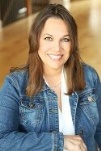 Penny
From the second Penny heard the big radio stations in Boston, God had put it in her heart that this is what she was meant to do. She has moved all around the USA on her radio journey traveling the path God had in store for her in radio and now she feels very blessed to be able to share contagious encouragement with Keep The Faith.
Life can be difficult at times, but sometimes all you need is a little reminder that God IS there and he IS in control....you are NOT alone. Penny is the mother of 3 beautiful boys, and an amazing IT husband.

Amanda Carroll
On Air Talent
Amanda Carroll offers up to 5 hours of stories and encouragement with relatable content for your local audience. She's a friendly voice you can add to your station in any daypart. Amanda engages listeners with encouraging conversation that's mixed with your station's top songs.
Wade McShane
Operations & Weekend Air Talent
Wade first became interested in radio by winning radio contests when he was just 14. By 16, he was on the air. He is a veteran of mainstream CHR, AC, News/Talk and Oldies radio in his native Southern California, and his production has won two ADDY awards and five ADDY Certificates of Recognition. He was also a contributor to a Golden Mike award for earthquake coverage, and an Emmy-award winning CBS sports feature. And he's experienced in video and print work - everything from a doctor, lawyer, car salesman, and Ask Jeeves butler, to feature extra work in music videos and the original "Saved by the Bell."
After joining Salem, Wade served as Morning Show host from 1994-1999, during which time he met his future wife at, what else, an on-air remote. As Operations Manager, he continues to oversee much of the production, as well as his on-air duties. He also produces and co-hosts the weekly syndicated program, "The CCM Radio Magazine." Wade married his beautiful wife Rachelle in April 1998. They have three sons, Matthew, Andrew and Jacob and one daughter, Anna

Jayme Summers
Weekend Air Talent
I grew up in Texas, but Georgia is forever home to me. It's where I married my husband and where my kids were born. A big piece of my heart sits in a small coastal town in Southern Georgia. I kind of fell into radio, with zero intentions of being on-air (I was painfully shy... still am but I hide it better). One day a DJ got sick, and 18 years later here I am. I really love what I do and I am thankful for the many opportunities I've been given. My perfect weekend would include some kind of on the water activity with my kids and husband. I just love the water. Ocean, lake, river, or stream; if I can dip my toes in it, I'm happy. One of the greatest pieces of advice I've ever received didn't come in the form of advice. My husband and I were having lunch with our then Pastor and Friend, Brother Roland Dann. At the time there had been a lot of debate over the location of the nails. Were they in Jesus' hands or wrists? I asked Bro. Roland what he thought, and he responded with "Does it matter? What really matters is that he was hanging on a cross and dying for our sins." That one statement, 15 years ago, is something that stuck with me. I constantly ask myself if my focus is on the nails or the cross.