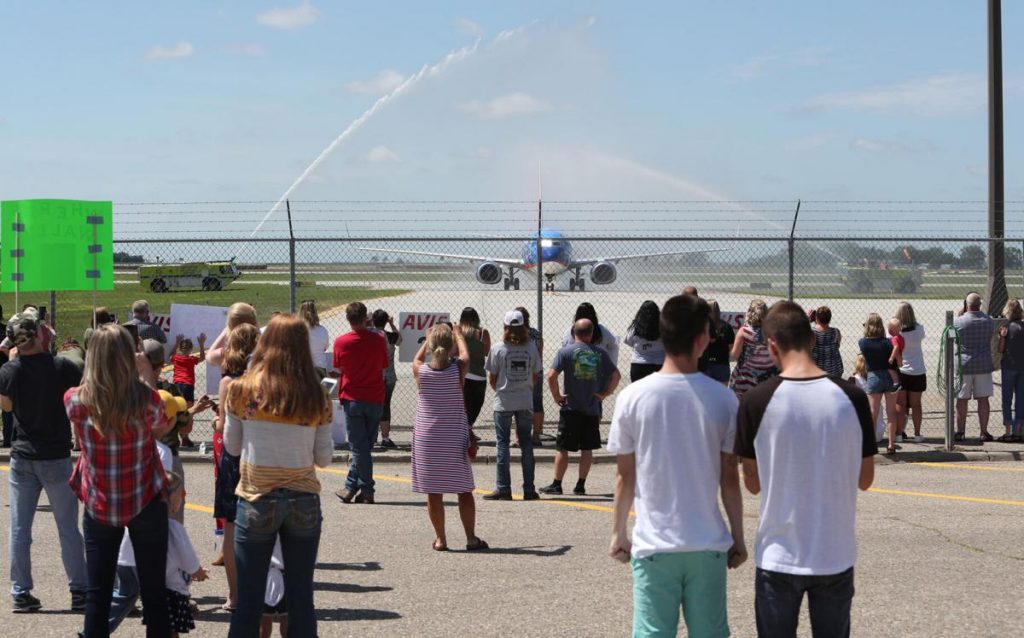 The airplane carrying members of the South Dakota Army National Guard's Alpha Battery, 1-147th Field Artillery Battalion and 147th Foward Support Company received a water salute as it arrived at Aberdeen Regional Airport on Saturday to a cheering crowd. Soldiers from the unit returned home after serving on a 10-month deployment to Europe in support of Operation Atlantic Resolve. (American News Photo by John Davis
ABERDEEN, S.D. (By Elisa Sand esand@aberdeennews.com) – Spirits were high despite the heat on Saturday as the 110 soldiers with the Aberdeen- and Watertown-based National Guard units were reunited once again with their families.
About 600 family members, military personnel and special guests were at the Civic Arena on Saturday afternoon for the return and deactivation ceremony for the South Dakota Army National Guard's Alpha Battery, 1-147th Field Artillery Battalion and 147th Forward Support Company.
Soldiers are returning home after serving on a 10-month deployment to Europe in support of Operation Atlantic Resolve, which enhances the U.S. deterrence posture, increase the readiness and responsiveness of U.S. forces in Europe, and supports the collective defense and security of U.S. allies and partners.
The Aberdeen-based Alpha Battery is equipped with the Multiple Launch Rocket System and provides artillery support to a brigade, division, corps or coalition task force. The Watertown-based Forward Support Company is a multifunctional logistics unit which provides supply and maintenance support.
Troops arrived at Aberdeen Regional Airport about 12:40 p.m., receiving a welcome salute from Aberdeen Fire & Rescue. Water from the fire truck shot over the arriving plane. That's where families first reunited with hugs and tears before heading to the Civic Arena. The procession made a brief tour mostly along Milwaukee Avenue, where community members were able to offer their welcome and support since the ceremony was limited to family members.
Special guests included Gov. Kristi Noem, U.S. Sen. John Thune, R-S.D., U.S. Sen. Mike Rounds, R-S.D., and U.S. Rep. Dusty Johnson, R-S.D. Each expressed their thanks and gratitude to soldiers for serving their country, families for supporting their loved ones while deployed and their employers for allowing time to serve and return to their jobs.
"Thanks to the many employers who allowed them to step out of their regular lives and support them along the way and welcomed them back," said Major General Jeff Marlette, S.D. State adjutant general.
Marlette specifically thanked the soldiers for being among the 1% of U.S. citizens who serve in the U.S. military, but he also acknowledged that things have changed since their departure.
"You'll have some adjustment, this is a different era we're living in," he said.
Noem continued with that theme of gratitude while recognizing changes that have happened in this country since the unit's deployment almost a year ago.
"Know that during this time our country went through some challenging times, but for me I look at challenging times as opportunities," Noem said. "We had an opportunity to figure out our priorities. We had an opportunity to remember how special our country is and how important our liberty is."
Those challenges, she said, provided daily reminders here while the soldiers were overseas protecting our country.
Johnson opened with gratitude and a bit of humor.
"We are all really glad you are home," he said. "While you were away … well, we just let this country go to hell. And, we're sorry."
After laughter in the crowd subsided, Johnson continued with his remarks recalling stories of his grandfather's military service and the pride and honor his family felt with his service and how his grandmother's smile was a little brighter when he returned. He said that's likely the same for the families who gathered Saturday.
"Your families are filled with great pride for your service and you make their smile so much bigger," he said.
Rounds said the impact of a deployment extends beyond the families and their employers.
"When you activate the guard you activate the community and the state because we're all one big family," he said recalling a chance meeting recently with someone who was also heading to Aberdeen for Saturday's deactivation ceremony.
Thune noted the National Guard's reputation for a great work ethic and dedication and thanked the soldiers for their leadership.
Thune said one item Congress is working on in Washington, D.C., is the Defense Reauthorization Bill.
"I'm reminded daily we live in a dangerous world," he said noting the fact that the National Guard is always on alert.
work
While contractors have been working on the construction of a new taxiway at Aberdeen Regional Airport, which has the primary, northwest-southeast runway closed. Michael Schmit, project engineer for Helms and Associates, said contractors cleared equipment from the safety area so the primary runway could be used for the National Guard flight. The primary runway was re-closed Saturday and will continue to be closed until mid-August, Schmit said.
(visit www.aberdeennews.com)