ABERDEEN, S.D. (HubCityRadio.com) – Fire crews were called to an explosion at Harm's Oil on West Highway 12 Monday afternoon.
An official on scene confirmed that three people were taken to the hospital.
Aberdeen Fire and Rescue, Aberdeen Rural, Columbia, Groton, and Warner fire departments all responded to the scene.
The explosion was reported shortly after 2 p.m.
The public is asked to avoid the area as much as possible as traffic is being diverted.
Stay tuned to HubCityRadio.com for updates.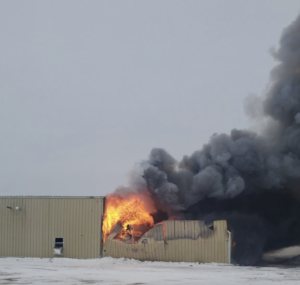 Photo courtesy of Royce Swearingen.