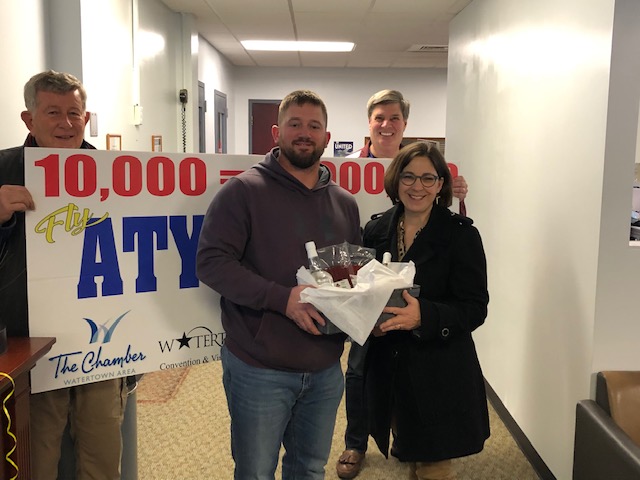 WATERTOWN, S.D. (KWAT) — A nice gift today for an Aberdeen man as he and his family boarded a flight from Watertown to Chicago.
Chuck Driscoll was the 10,000th passenger to board a flight at Watertown Regional Airport (ATY) in 2019.
Mayor Sarah Caron was on hand for the announcement, and gave Driscoll a gift basket containing $500 in Watertown Bucks, a bottle of rum from Glacial Lakes Distillery, a bottle of wine from Ghost Town Winery, beef sticks from Dakota Butcher and other assorted gift certificates. Driscoll says he used to use the Watertown Airport a lot. Then he quit, but now he's back.
This is the third straight year ATY has reached the 10,000 enplanement mark. Manager Todd Syhre says he's setting the bar higher for 2020.
It's been a $10 million dollar week for the airport. Last week, they received a $9 million federal grant, and today, by reaching 10,000 enplanements, they receive a million dollar bonus from the federal government.
Caron was asked what they city will do with all that money.
ATY is served by SkyWest Airlines operating as United Express, with daily non-stop jet service to Denver and Chicago.