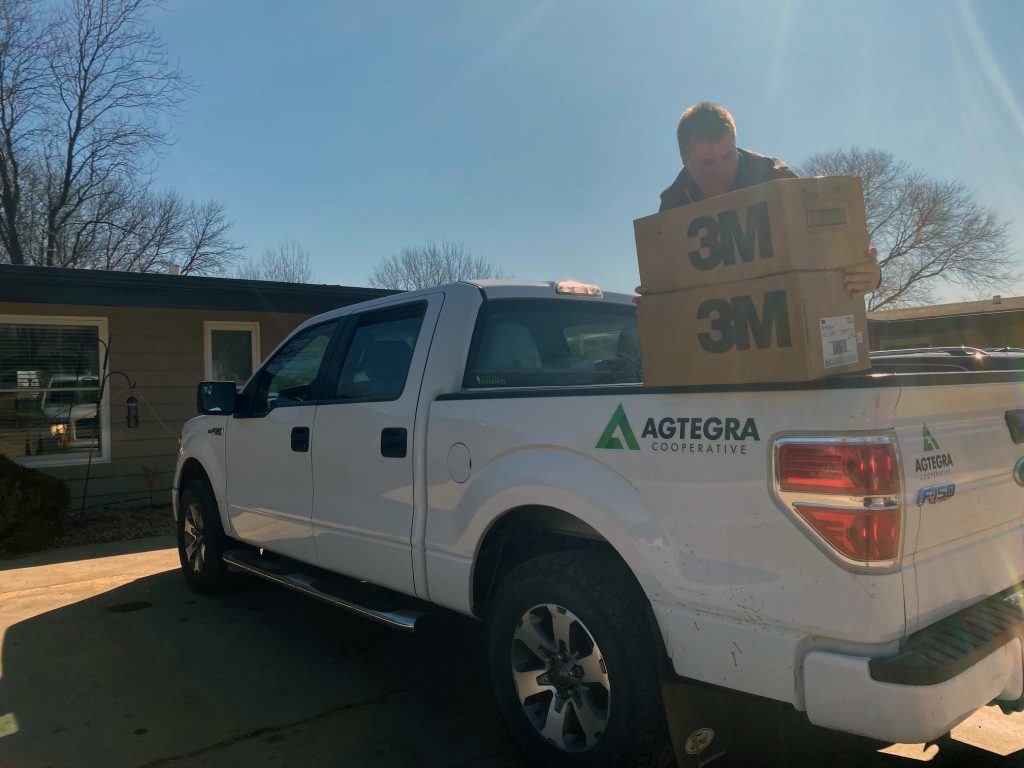 Photo caption: Agtegra Fleet Manager Nathan Locken, delivers two boxes of N95 respiratory mask to the Avantara Nursing Home in Redfield, S.D. March 23.
ABERDEEN, S.D. (Press Release) – Agtegra has been taking inventory at all locations to compile as many N95 respiratory masks as possible to donate to area healthcare facilities, and nursing homes.
The initiative began last week after many region hospitals and clinics reached out due to a lack of safety supplies. Agtegra donated 600 masks to Avera on Friday and have plans to donate approximately another 3,700 masks this week.
"It is essentially important for communities to band together right now with every resource possible," said Agtegra Director of Safety and Environmental Beth Locken. "The healthcare providers in our communities help protect and care for our neighbors, friends, family members, patrons, and colleagues. The more we work together and assist our healthcare providers when needed, the faster we can help move past this."
Many area healthcare facilities and nursing homes have stated that they may run out of supplies in the next week or two.
To date, supplies have or will be delivered to South Dakota facilities in Aberdeen, Bowdle, Chamberlain, Faulkton, Huron, Mitchell, and Redfield, and to Oakes, North Dakota.
Agtegra will continue to inventory supplies and assist facilities in need as communities deal with the COVID-19 virus.
In addition to the masks, Agtegra is taking inventory of Tyvek suits and eye wear and will donate those as supplies come in.