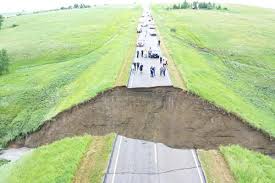 BISMARCK, N.D. (AP) — Authorities say the bodies of two people have been recovered from a washed-out section of highway on a southern North Dakota reservation.
The drivers of two other vehicles were rescued from the floodwaters that collapsed the road on the Standing Rock Reservation in Sioux County.
Flash flooding washed out a 30- to 40-foot section of a road over Joe Brush Creek resulting in a 60- to 70-foot deep drop overnight Monday and early Tuesday. Tribal chairman Mike Faith says the body of Trudy Peterson was recovered late Tuesday. Faith says the body of Jim Vanderwal was recovered hours earlier.
Two others whose vehicles plunged into the hole were rescued from the creek below, including a bus driver and a pickup truck driver. They were taken to hospitals.