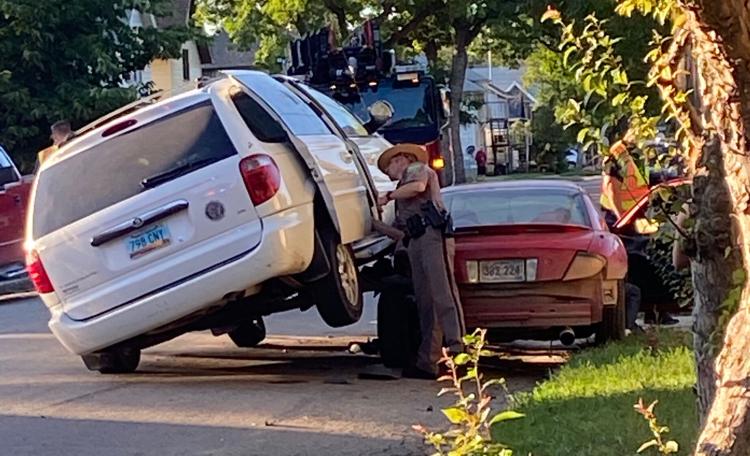 Police and medics were called to the scene of a crash Sunday evening where a van came to rest on a car. American News photo by Elisa Sand
ABERDEEN, S.D. (By Elisa Sand esand@aberdeennews.com) – Charges are pending against an Aberdeen woman after a Sunday evening crash in which her vehicle came to rest on a parked car.
Police and medics were called to the crash at 7:44 p.m. just north of the intersection of South Third Street and Ninth Avenue Southwest.
The crash involved a 2002 Chrysler Town and Country van and 2003 Pontiac Sunfire.
The driver of the van was Laycie Williams, 24, of Aberdeen, said Tony Mangan, public information officer for the South Dakota Highway Patrol. Williams was not injured, but she and the two men who were in the van fled the scene after the crash and were found nearby, Mangan said.
He did not have the names of the two men, but said one was arrested following the incident on charges unrelated to the crash.
Mangan said the van drove up onto the car, which was parked at the time.
The crash remains under investigation, he said, including whether occupants of the van where wearing seat belts and whether alcohol was a factor. Williams faces charges, Mangan said.
(visit www.aberdeennews.com)