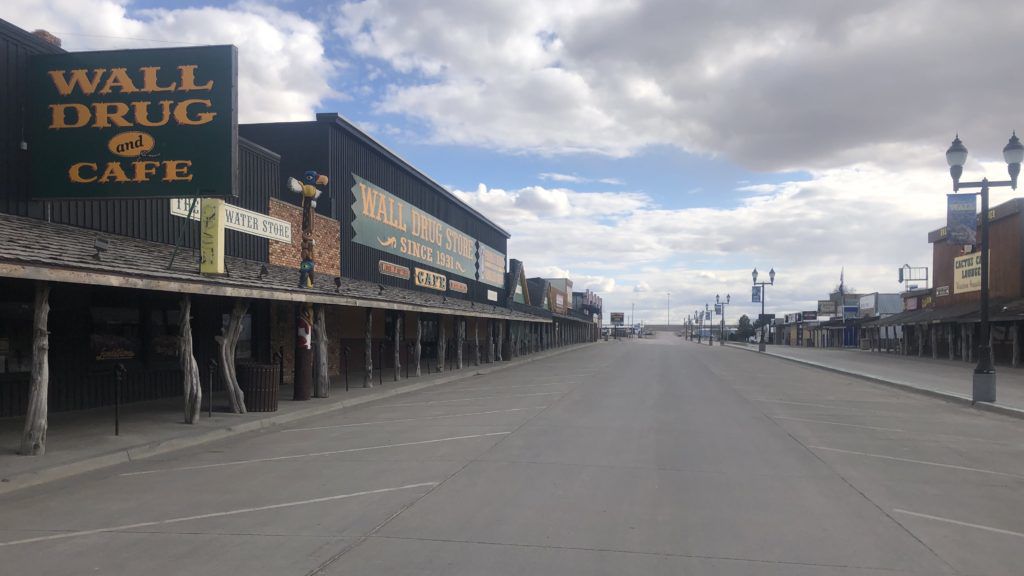 The usually busy street in front of Wall Drug was eerily devoid of people and vehicles on a 65-degree afternoon on March 29 due to the COVID-19 pandemic. Wall Drug and many other tourist attractions have closed to slow the spread of the virus. (South Dakota News Watch photo by Bart Pfankuch)
PIERRE, S.D. (South Dakota News Watch) – The COVID-19 pandemic has almost completely shut down tourism in South Dakota, one of the state's largest industries.
The loss of visitors now and potentially into the summer tourism season threatens to cut off a vital economic lifeline for businesses and their employees and eliminate a major source of sales tax revenues that fund operations of cities and state government.
Gov. Kristi Noem has said the pandemic and efforts to slow the spread of the COVID-19 virus, such as social distancing and foreign travel restrictions, would likely continue through May, when infections are expected to peak in South Dakota. The unwelcome news could presage devastating economic consequences across the state.
Tourism represents roughly 5.5% of the state's gross domestic product, a key indicator of economic health. According to a report prepared for the state Department of Tourism, tourists in South Dakota in 2019 spent more than $14.5 billion and generated more than $308 million in state and local tax revenue, mostly through sales taxes. In terms of employment, the industry supported more than 48,000 full-time jobs in South Dakota and at least partially supported another roughly 7,000 jobs last year.