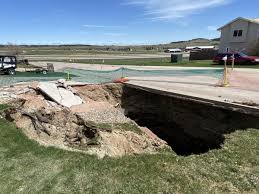 Rapid City Journal photo
BLACK HAWK, S.D. (Rapid City Journal) — A developer's document for a subdivision where a massive sinkhole has caused homeowners to evacuate in Black Hawk says county planners were told about an old mine underneath the property before construction began.
The Rapid City Journal reports the Meade County Planning Board approved the Hideaway Hills development after being told part of it would be built over a mine and that soil boring may be needed to determine if dangerous cavities exist, according to a document packet from the developer. The 2000 document was also addressed to county commissioners and planning staff. Fifteen families have evacuated their homes after the sinkhole opened April 27 and exposed the mine 25 to 30 feet below.