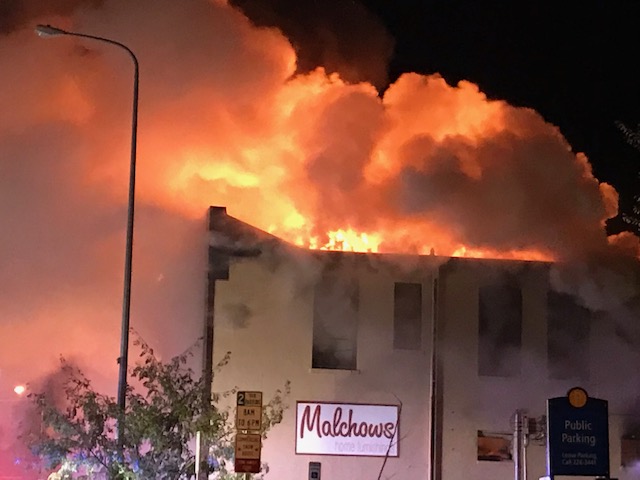 ABERDEEN, S.D. (HubCityRadio.com) – A longtime Aberdeen business was gutted by a fire Saturday night. Firefighters battled a blaze at Malchow's Home Furnishings on Main Street in downtown Aberdeen for hours.
People were living in 13 of the 17 apartments above Malchow's. Officials said there were no injuries as a result of the fire.
The fire was reported at 6:17 p.m. Saturday evening. The Aberdeen Fire Department and Aberdeen Rural Fire Department responded to the scene.
The cause of the fire is still under investigation.
Malchow's started operation in 1945 and has remained at the same location. It is one of Aberdeen's iconic businesses.
On Malchow's business Facebook page, the family is directing donations for the tennants who lived in the apartments above the building to be dropped off at Good Shepherd Lutheran Church, 1429 N. Dakota St., 9 a.m. to 5 p.m. weekdays, except for 9 a.m. to 7:30 p.m. on Wednesday. Cash donations can be made at Dacotah Bank.
The Salvation Army responded to the scene and local businesses helped to provide food and lodging.
The American Red Cross released the following statement on Sunday afternoon:
The American Red Cross is helping more than a dozen people after a fire in Aberdeen Saturday night. The fire happened at the Malchow's Home Furnishings building, which includes several apartments.
Red Cross volunteers responded to the scene and met with families and individuals who were displaced. As of 12:30 p.m. Sunday, the Red Cross has helped 17 people who are affected.
Volunteers who are providing care and comfort to the families are offering emergency lodging at a local hotel and financial assistance to help meet immediate needs – such as food, clothing and other essential items that may have been lost in the fire. The Red Cross can help people get prescription medications or eyeglasses replaced and have also distributed blankets and comfort kits with basic toiletry items to all affected.
Each individual or family will be assigned a Red Cross caseworker who can help develop a plan for recovery and connect folks with other community resources. Anyone affected who has not met with a Red Cross representative can call our 24-hour disaster assistance hotline at 1-844-292-7677. Red Cross disaster assistance is free and available to all.
(For photos and videos of the fire visit the Hub City Radio Facebook page)