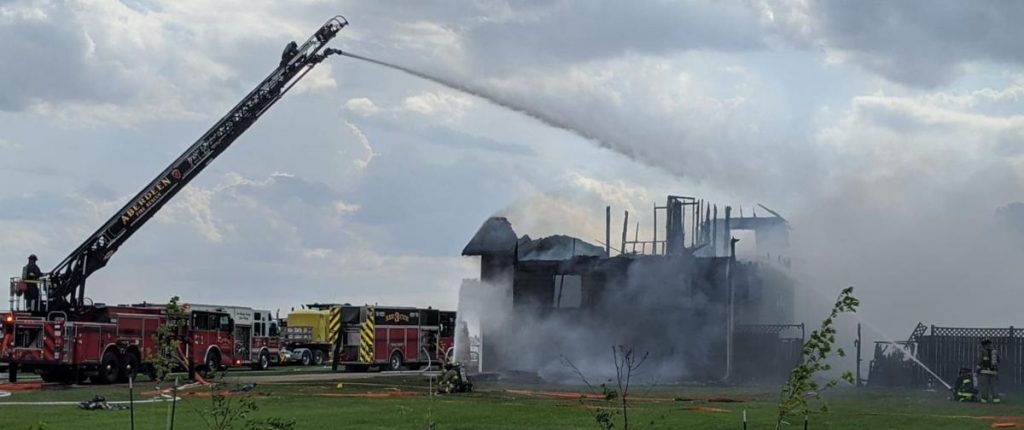 A home near the intersection of 131st Street and 390th Avenue was destroyed by a Wednesday afternoon fire. (American News Photo by Scott Waltman)
ABERDEEN, S.D. (By Scott Waltman swaltman@aberdeennewscom and Elisa Sand esand@aberdeennews.com) – A Wednesday afternoon destroyed a house near the intersection of 131st Street and 390th Avenue.
Crews were called 2329 N. County Road 19 at 4:01 p.m. That's the home of Zachary and Carissa Rathert, Brown County Emergency Director Scott Meints said.
The house is about a mile north of 3M and in the Aberdeen Rural Fire Department district.
In addition to flames, firefighters were battling howling winds out of the south and 95-degree heat.
"The weather was a factor and the wind," Meints said. "The wind was not going to relinquish any control."
The two-story home on the southwest corner of the intersection was blackened, its roof and windows were gone and the interior appeared to be gutted by flames.
The cause of the fire is under investigation, according to a news release from Aberdeen Fire & Rescue.
Everybody in the home was able to escape and there were no known injuries, according to the release. However, three firefighters suffered minor injuries.
Battalion Chief JR Huebner said the home was a day care. Some of the day care children were in the house when the fire started, he said, as were some family members. He did not know hoe many people were in the house, but they all escaped without injury.
Huebner said one of the homeowners attempted to use a hose to extinguish the fire, but soon found it wasn't helping.
Aberdeen Fire & Rescue and the Aberdeen Rural Fire Department were initially dispatched to a grass fire, according to the release. But en route, the call was upgraded to a structure fire. Huebner said there will be some additional investigation to see how the fire was initially reported to determine if it was a structure fire from the beginning.
When the Aberdeen Fire & Rescue first arrived, the exterior of the single-family home was on fire. Firefighters began work to extinguish it, but flames intensified and spread rapidly into the home, according to the release.
Crews were also hindered by limited water. The Columbia and Groton fire departments responded to help with personnel and water supply.
A storage building near the home has heat damage from the fire, Huebner said. While crews battled the blaze, some vehicles were removed from that building, he said.
The family lost everything, according to Brown County Emergency Management. The Red Cross is helping the family.
Other responding agencies included Brown County 911; the Aberdeen Police Department; the Brown County Community Emergency Response Team; Northern Electric; the Aberdeen Public Works Department and the South Dakota Fire Marshal's Office.
(visit www.aberdeennews.com)