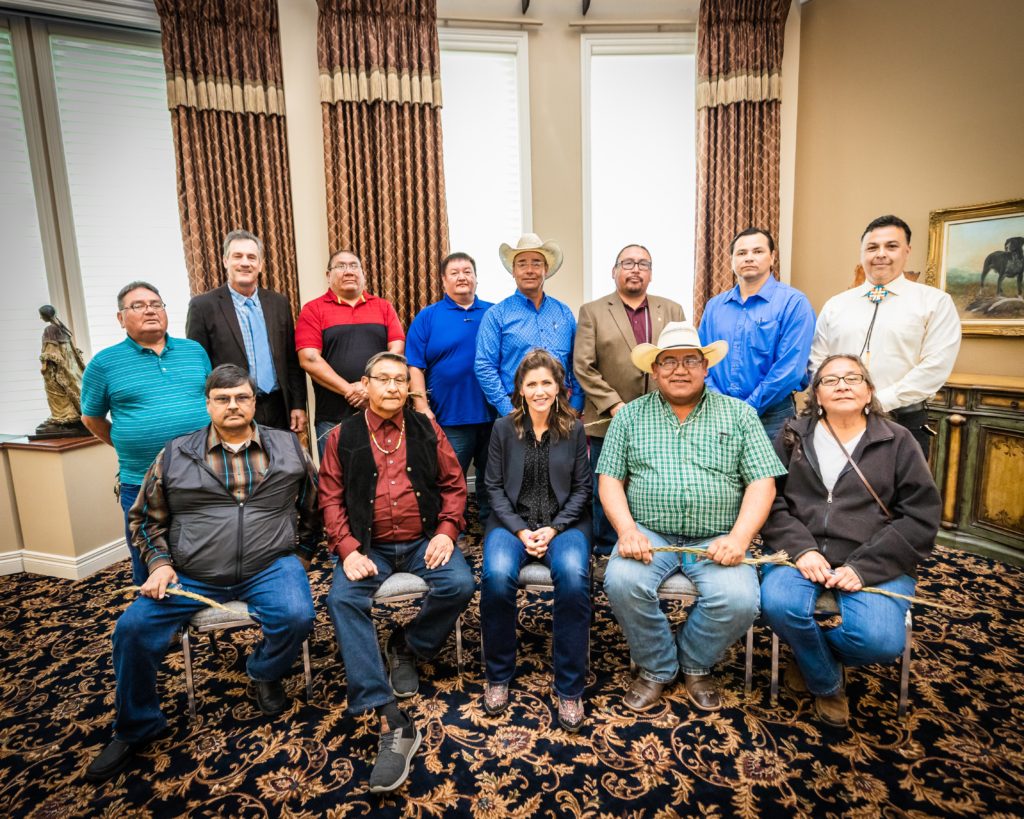 Standing Left to Right:  Yankton Sioux Tribe Councilman Robert "Pete" Kazena, Lt. Governor Larry Rhoden, Oglala Sioux Tribe 5th Member Rick Gray Grass, Sisseton Wahpeton Oyate Councilman Francis Crawford, Cheyenne River Sioux Tribe Councilman Vince Dupris, Standing Rock Sioux Tribe Councilman Frank White Bull, Rosebud Sioux Tribe Councilman Steve DeNoyer, Department of Tribal Relations Secretary Dave Flute.
Sitting Left to Right: Lower Brule Sioux Tribe Chairman Boyd Gourneau, Yankton Sioux Tribe Chairman Robert Flying Hawk, Governor Kristi Noem, Cheyenne River Sioux Tribe Chairman Harold Frazer, Rosebud Sioux Tribe Councilwoman Sharon Swift
PIERRE, S.D. (Press Release) – On July 1, Governor Kristi Noem hosted 10 tribal leaders at the Governor's Residence to discuss State-Tribal partnerships on meth prevention and law enforcement.
"I am incredibly grateful for the seven tribes who sent representatives to Pierre to discuss ways we can work together to combat meth and strengthen economic development on reservations," said Governor Kristi Noem. "Meth destroys families across South Dakota, but tribes are particularly impacted. It is critical that we work together to find ways to strengthen law enforcement, root out distributors, and protect kids – all while respecting tribal sovereignty. We are finding common ground on this issue, and I look forward to continuing these conversations in the coming days and months."