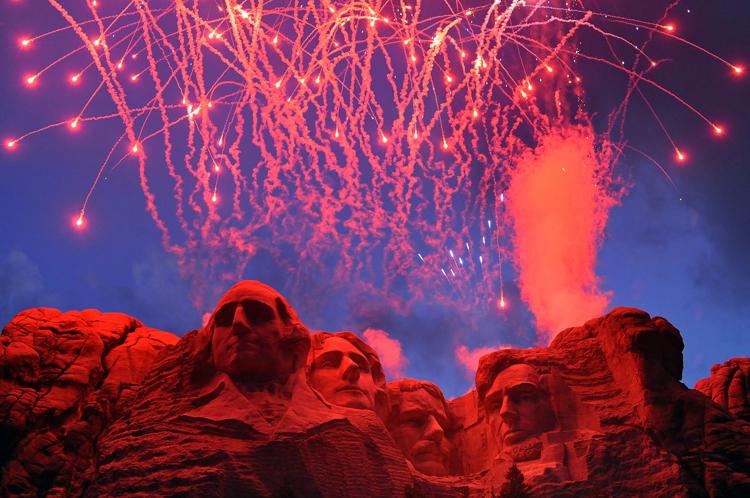 Fireworks above Mount Rushmore National Memorial on July 3, 2008. Photo courtesy of U.S. Air Force Senior Airman Marc I. Lane
SIOUX FALLS, S.D. (By Lisa Kaczke, Sioux Falls Argus Leader) – Health experts are concerned a crowd of 7,500 gathering without social distancing and masks at the Mount Rushmore fireworks display could cause a spike in coronavirus cases following the event.
The Friday fireworks, which President Donald Trump is scheduled to attend, will be the first at Mount Rushmore National Monument in a decade and comes three months into the COVID-19 pandemic. Health professionals in South Dakota are concerned the lack of mitigation efforts expected at the event could cause the coronavirus to spread in the communities surrounding Mount Rushmore and in communities where attendees live following the event.
The Centers for Disease Control and Prevention has four levels of coronavirus risk for events and the Mount Rushmore fireworks falls into the highest risk category: a large in-person gathering where it'll be hard for attendees to remain 6 feet apart and attendees have traveled from outside the local area.
The South Dakota State Medical Association has concerns that proper social distancing and safety precautions won't be maintained during the event and it questions whether attendees will be able to social distance at the event given its magnitude and location, said the association's President Dr. Ben Aaker, an emergency medicine physician in Yankton.
It's impossible for the association to predict what will happen with coronavirus cases after the Mount Rushmore fireworks, he said. But if people become infected at the event, some of them will need to be hospitalized and some will need ventilators and ICU beds, he said.
"Right now, we feel that we have enough beds for what we're currently undergoing, but if we have large events such as this event at Mount Rushmore, that has the potential to overwhelm the hospital system," Aaker said.
The SDSMA isn't saying that events should be canceled, but rather the proper precautions recommended by the CDC need to be in place. If that doesn't happen, the risks come into play and that's what the SDSMA is concerned about, he said. The state hasn't reached out to the SDSMA about the fireworks event.
Michael Klatt, a retired public health advisor who worked for the CDC and state of South Dakota, said he's "baffled" the state is moving ahead with the fireworks event and not requiring social distancing and masks at the event. He pointed out that the coronavirus has killed 125,000 Americans so far.
"It looks to me like a perfect storm for an easy transmission of this deadly disease," said Klatt, who now lives in Sioux Falls.
Gov. Kristi Noem, when announcing the details of the event, urged people to not attend the fireworks event if they're not feeling well.
"We've seen people coming into the state for many weeks now and we continue to see our infection rates decline," Noem said. "What I'm going to ask people to do is if you're sick, stay home."