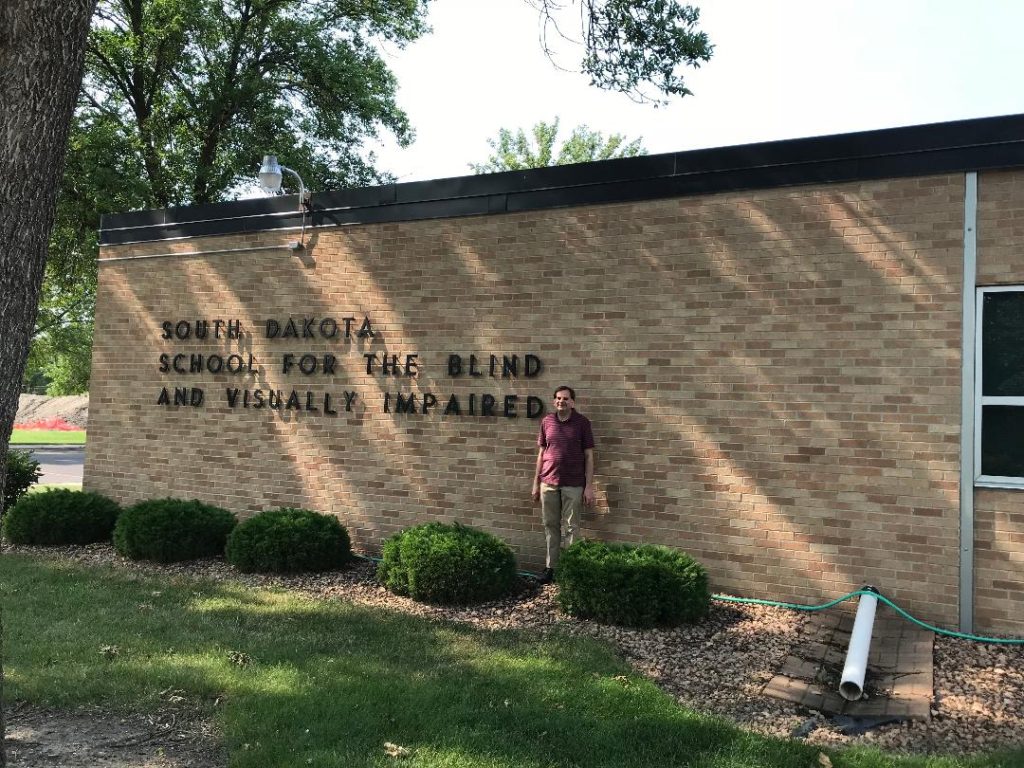 ABERDEEN, S.D. (Press Release) – He's known nationally as a Jeopardy champion and USA Today staff member, but Eddie Timanus got his educational foundation in Aberdeen at the School for the Blind and Visually Impaired.
Timanus also has fond memories of helping his father, Chuck Timanus, with his Northern Wolves Basketball and Football radio broadcasts while the family lived in Aberdeen.
"Oh, it was a blast. I was sort of the team's unofficial mascot," he said. "I didn't make every road trip, but most of the ones in state or the nearer destinations in North Dakota or Minnesota I could tag along on. I learned a lot, about sports and – other things."
Timanus spent his elementary school years in Aberdeen, attending the South Dakota School for the Blind and Visually Impaired from first through seventh grade, 1974-1981. They were typical elementary years, he said – he was a pretty good student, he had friends, but mostly he just learned the basics.
"Obviously for a blind student, the basics included some things not on your usual curriculum like orientation and mobility training, typing, a little bit of hand-writing practice," he said. "But all in all, it was a good foundation for my education."
Partnership 'A Natural Fit'
While Timanus hasn't heard much about the partnership between Northern and SDSBVI through the Educational Impact Campaign – which involves a new SDSBVI currently under construction – he said it seems like a natural fit.
Timanus has only been back to Aberdeen a couple of times since his family moved to the Washington, D.C., area in 1981. He returned in 2000 for the centennial all-school reunion at SDSBVI. Most recently, he made a quick overnight stop last summer with his wife and son on their way out to the Black Hills. Now 51, Timanus and his wife have been married for 17 years, and their son turns 15 in September.
Works for USA Today
Timanus has worked at USA Today since 1992. His primary job is compiling the votes for the college coaches' polls. While the football poll gets the most attention, they also sponsor the polls for men's and women's basketball and baseball. Timanus writes other college sports-related items as well, including previews and features, and he and his dad have covered the NCAA lacrosse championships for the last 27 years.
It's clear he loves what he does. "I get to watch sports and write about them and get paid for it," he said. "What's not to like?"
Jeopardy 'The Thrill of a Lifetime'
In 1999, Timanus got the opportunity many people dream of: appearing as a contestant on the game show, Jeopardy.
"It was, quite literally, the thrill of a lifetime," Timanus said. "I was just glad to get the opportunity to play, and I figured if I was able to win once it would just be icing on the cake. Becoming a five-day champ (when that was the limit) was absolutely incredible."
Despite his accolades, Timanus said he didn't set out to be an inspiration – he has always viewed himself as "just a regular dude." While some might think otherwise, Timanus said he'd prefer for his accomplishments – and those of any blind person – to not be considered extraordinary achievements.
But, he said, if what he's done gives someone else the initiative to pursue their own aims, then that's a good thing.
Timanus offers these words of encouragement for young people, including current SDSBVI students: "Figure out what you want to do, and show people how you can do it. And don't be afraid to ask for help. There's room in the working world for us, but someone has to give that first foot in the door."