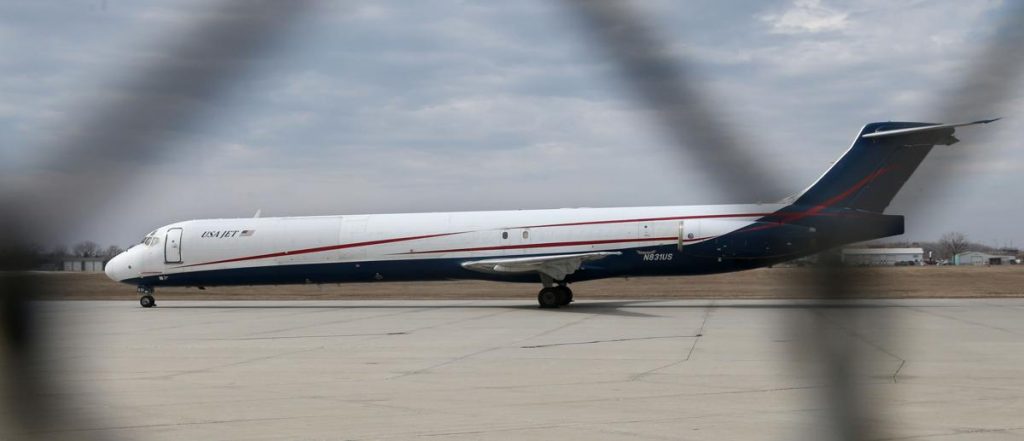 This MD-83 transport jet was on the tarmac at Aberdeen Regional Airport Wednesday. It and other large jets are hauling N95 respirator masks made at the 3M plant in Aberdeen. (American News photo by John Davis)
ABERDEEN, S.D. (aberdeennews.com) – As 3M tries to supply the nation and other parts of the world with N95 respirator masks made in town an elsewhere, Aberdeen Regional Airport has become involved in the effort.
Meanwhile, the Trump administration has turned up the heat on the company, implying that it's not making enough masks — which help stop spread of the COVID-19 virus — for use in the U.S.
Some folks in town noticed rumbling of windows and vibration of their homes last weekend. That was caused by a Boeing 727-200 jet. More recently, the larger-than-normal jets landing in Aberdeen have been MD-83 airliners.
"They're actually very large cargo planes converted from passenger planes," Aberdeen Transportation Director Rich Krokel said Wednesday of the MD-83s, manufactured by McDonnell Douglas. "They're coming in empty and loading up palletized 3M masks. I don't know who is the end recipient of them. Some are Portland, Philly. The one currently here flew in yesterday afternoon, then flew out to Encino, Calif., then returned."