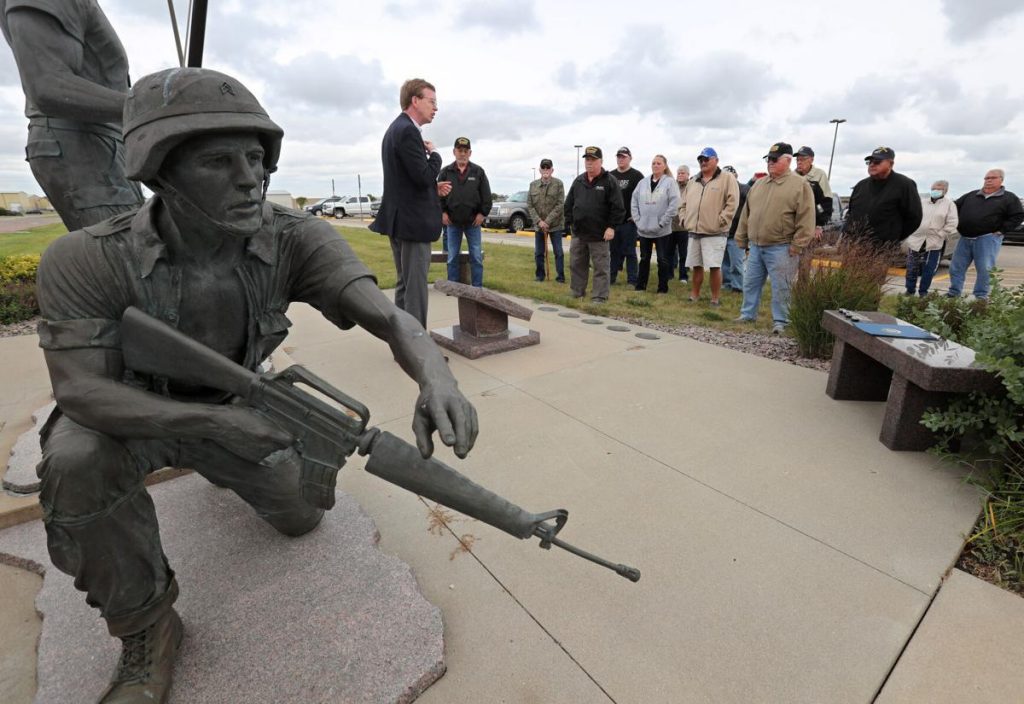 U.S. Rep. Dusty Johnson, center, speaks to a group of Vietnam veterans gathered with family and friends on Tuesday at Aberdeen Regional Airport. Johnson gave each veterans a lapel pin and service coin during the small ceremony. (American News photo by John Davis)
ABERDEEN, S.D. (By Elisa Sand esand@aberdeennews.com) – Ten Vietnam-era veterans received some overdue recognition and gratitude in a ceremony on Tuesday at Aberdeen Regional Airport.
Each veteran was presented with a lapel pin and challenge coin from U.S. Rep. Dusty Johnson, R-S.D., in an outdoor ceremony meant to thank veterans from local communities who likely didn't receive a warm reception home when they returned in the late 1960s or 1970s.
"America is the greatest country, but it's not perfect," Johnson said, adding that the welcome veterans received when they returned to the U.S. was one of those imperfections.
"It's never too late to do the right thing," he said.
Those recognized included Herb Brosz, Gary Sombke, Stu Himes, Galen "Chip" Swanson, Ron Neitzel, Roger Schaible, Dave Green, Don Jondahl, Ray Pfeifle and Mark Wolf. Sombke is from Conde. The other men are from Aberdeen.