KSDN is Hub City Radio's talk, news and weather station.
Turn to KSDN to learn what's going on in the country, financial advice and so much more.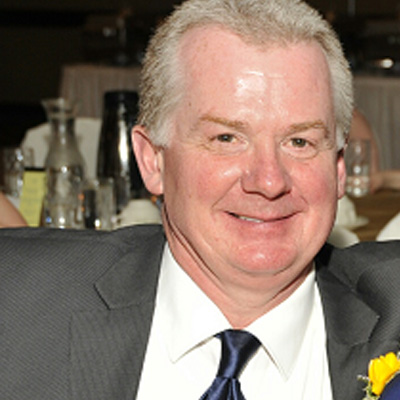 Scott Solberg
Sales & Marketing
scottsolberg@hubcityradio.com
(605) 229-3632
Scott is a native Aberdonian. After graduating from Brown Institute in Minneapolis in 1986, Scott worked in radio in Gregory and Redfield before making his way back to KGIM-AM in 1988. He's been with this radio group in one way, shape or form ever since, starting in news, moving to on-air and sports, and into sales in the early 1990's.
His current duties include sales, as well as the on-air voice of Roncalli High School sports since 2005. Calling two State Football Championships and the 2015 State A Boys Basketball Championship for the Cavaliers has highlighted his play by play career!
Scott enjoys helping clients come up with creative campaigns, and tries to make it as fun and "painless" as possible. He enjoys interacting with clients, not only professionally, but personally as well.
Scott and wife Connie have two grown children, and try to see them as often as possible. Both are married, with one grandchild on the way!!
You can reach Scott at (605) 229-3632 or ScottSolberg@HubCityRadio.com.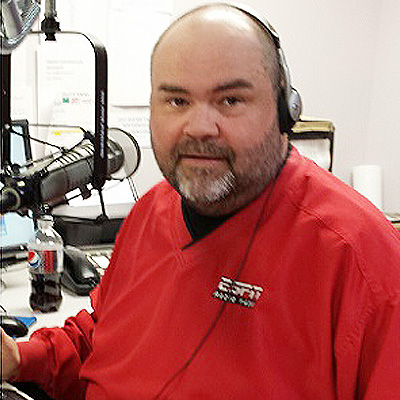 Doc Sebastian
Program Director/Operations Manager/Announcer
doc@hubcityradio.com
(605) 229-3632
I was born: In a crossfire hurricane.
I was raised: By a toothless, bearded hag.
Wait, that's Jumpin' Jack Flash!
Actually I was born June 18, 1960 at Ft. Benning, Georgia. I graduated dead last in my class from Aberdeen Central in 1978 (I think they gave me a diploma so they wouldn't have to deal with me for another two or three years).
Favorite Bands: Steely Dan, Little Feat, Stevie Ray Vaughan, Zep, Clapton, Dave Matthews, Blues Traveler, U2, and Police.
Favorite Foods: Anything Italian, burgers and beer!
Favorite TV Shows: Golf and baseball.
Favorite Teams: Broncos and Twins.
Movies I could watch over and over again: Young Frankenstein, Godfather Series, Papillon, Silence of the Lambs, Shawshank Redemption, Spinal Tap, Anything Monty Python, (almost) anything Bill Murray is in!
Buzzkills: Wars, Democrats and Republicans, Carrot Top!
Dinner for Four: Me, Jimmy Buffett, Bull Murray and the Late Great Harry Caray.
Dirty Little Secret: I'm really a lesbian trapped in a man's body (or) I once spent my own paper route money on a Barry Manilow album.
Lifelong Goals: To break 100 on the golf course and the bowling alley in the same day!!!
Catch the Doc of Rock:
You can reach me at (605) 229-3632 or doc@hubcityradio.com.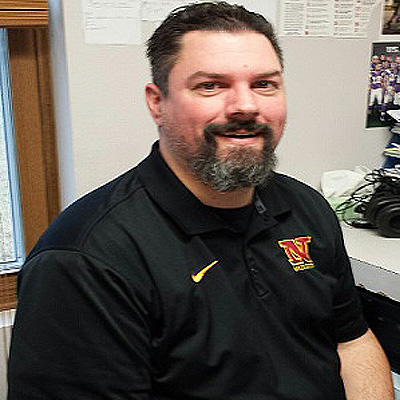 Ben Root
Sports Director/Announcer & Voice of Northern State University
ben@hubcityradio.com
(605) 229-3632
Mr. Root was born and raised in soCal, moving from the Inland Empire to the incomparable Orange County in his single-digit years. After obtaining an engineering degree, he learned that the big money was in radio… or not.
Ben earned a broadcasting degree with a sports emphasis and took his first full-time on-air gig as a DJ in Washington in 2006. After positions as a News Director calling high school sports in Wyoming, a Sports Director with a morning show in Nebraska, and another stint as a DJ in Washington, Ben found his way to Milbank, South Dakota, in 2010. He slid over to Aberdeen in 2011 and is now the Sports Director and the Voice of the NSU Wolves.
You might see Ben playing volleyball in a local league at Wylie or the Y, catch him playing disc golf, or see him walking the dog around town. He lives in Aberdeen with his wife Jennifer and their Beagle mix, Bridget Bones. Ben cheers for Orange County teams, and since his dad is a Michigan native, he roots for them as well.
Catch Ben on the radio:
You can reach him at (605) 229-3632 or by email at ben@hubcityradio.com.