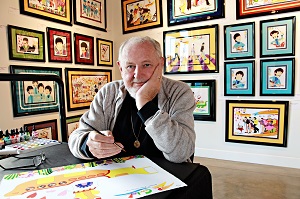 ABERDEEN, S.D. (HubCityRadio.com) – Legendary animator Ron Campbell will be bringing his talents to Aberdeen next week during the Pop Up Art Show. The event will take place on Tuesday, June 25 and Wednesday, June 26 at the ARCC Gallery, 225 Third Ave. S.E.
Hours are 8 a.m. to 8 p.m. each day with Campbell present from 3 to 7 p.m. both days.
Campbell will be exhibiting Beatles cartoon artwork (including works from the film Yellow Submarine), as well as other characters such as Scooby Doo, Whinnie the Poo, Flintstones, Jetsons, Yogi Bear and more. All works will be available to purchase.
When asked if he ever envisioned bringing so many characters to life, the Australia native said no, but he always wanted to be an animator.
Campbell said he relives a bit of his childhood when he sees some of his creations on television or in comic books.
When asked what Scooby Doo might say to him if he had a chance, Campbell chuckled and then related a story about the lovable canine's speech difficulties.
Campbell, who currently resides in Arizona, travels around the country selling his paintings and relishing the chance to connect with an audience that he has helped to entertain for decades.