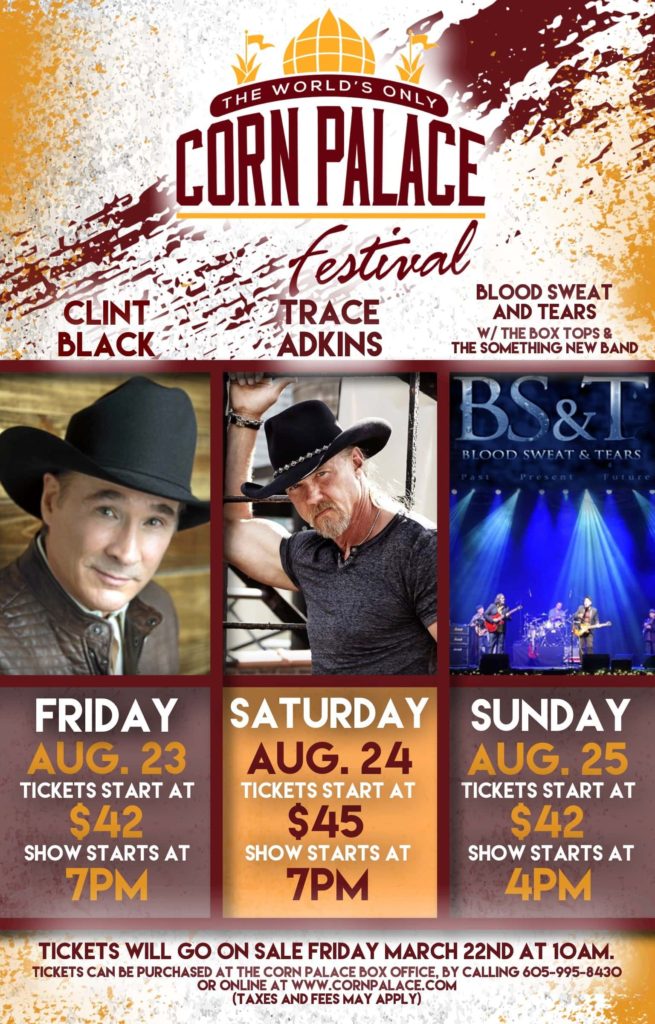 MITCHELL, S.D. (Press Release) – The World's Only Corn Palace is excited to announce the star-studded entertainment lineup for the 2019 Corn Palace Festival. This year's festival lineup will start on Friday Aug. 23 with Country music star and 1990 CMA Male Vocalist of the Year, Clint Black. Black has had more than 30 singles on the US Billboard country charts, 22 of which have reached number one.
Saturday Aug. 24 the Corn Palace will host ACM and Grammy-nominated Country music artist Trace Adkins.   Adkins has charted over 20 singles on the Billboard country music charts, including the Number One hits "(This Ain't) No Thinkin' Thing," "Ladies Love Country Boys" and "You're Gonna Miss This."
Sunday, Aug. 25 Blood Sweat and Tears will take stage performing Billboard Top 40 hits such as "Spinning Wheel," "You've Made Me So Very Happy," "Hi-De-Ho" and "When I Die." Opening for Blood Sweat and Tears will be The Box Tops who will be singing 8 top 40 hits including "The Letter".
Tickets will go on sale Friday March 22 at 10 a.m. Tickets can be purchased at the Corn Palace Box Office, by calling 605-995-8430 or online at www.cornpalace.com.