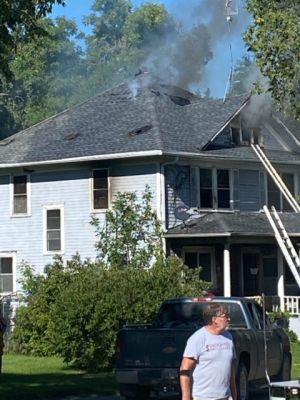 WAVERLY, S.D. (KWAT) — A man escaped injury Sunday afternoon when he jumped from the roof of a Waverly home that was on fire.
The fire was reported at 215 First Avenue a little before 3:00 p.m.
The Codington County Sheriff's Office says 22 year-old Bradford Thompson crawled out a bedroom window and onto part of the roof in order to escape.
He had jumped to the ground by the time fire crews got there, and did not sustain any serious injuries.
The home is owned by Thompson's brother, Devin Thompson.
Fire departments from South Shore, Stockholm, Watertown and Florence knocked down the fire.
The home and most of its contents are a total loss.
The cause of the fire is under investigation.