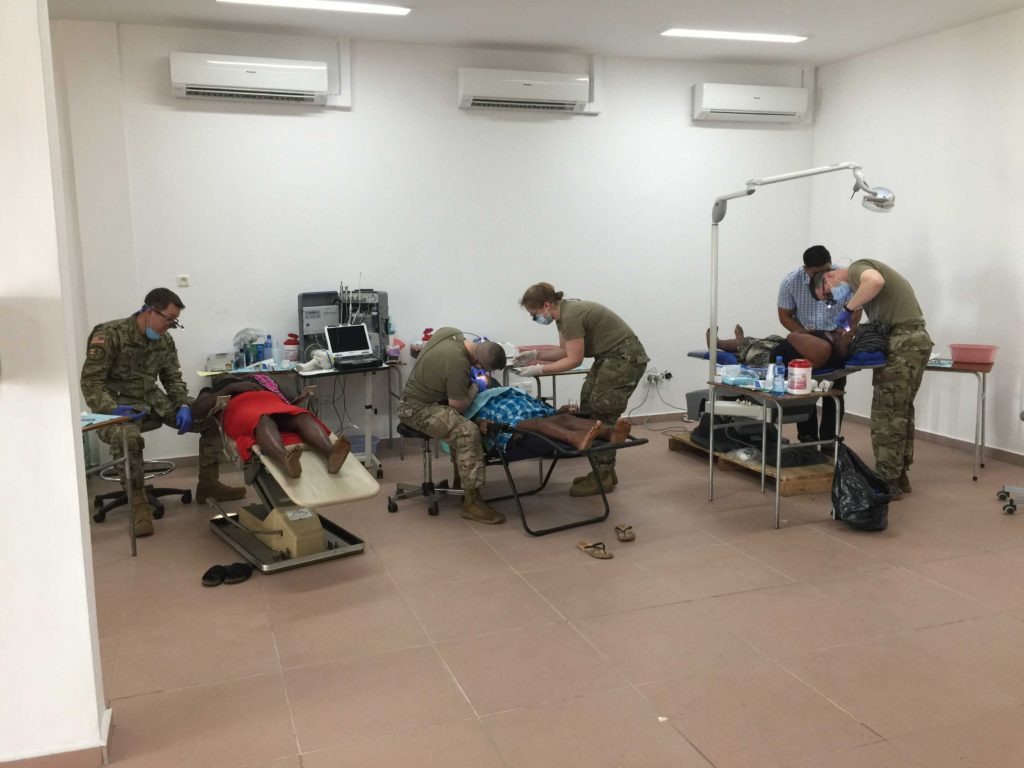 ALBINA, Suriname (Press Release) – Soldiers from the South Dakota Army National Guard traveled to the South American county of Suriname to provide medical and dental services to the local population of Albina, April 10-12.
The mission was part of a medical/dental readiness education and training exercise to assist with ongoing efforts of improving systemic and oral health in the region.
Nine Soldiers from the SDARNG's Medical Command and 730th Area Support Medical Company worked alongside Suriname Defense Force medics, a local doctor and pharmacy personnel to provide services to residents in the rural community.
The mission was conducted as part of the Suriname and South Dakota State Partnership Program, which seeks to strengthen ties through engagement activities and share experiences and best practices through a variety of military training exchanges.
"A significant need for rural dental care, as well as medical care, was identified as part of an ongoing exchange with South Dakota's partner country," said Maj. Ronovan Ottenbacher, a field surgeon in the 730th ASMC and provider in Medical Command. "This was a first-ever 'ground-up' mission for the SDARNG medical-dental community in Suriname."
The SDARNG team was comprised of two medical providers, two medics, three dentists and two dental technicians, some of which have been to Suriname before.
"This is now my third trip to the area and working with the SDF has always been very rewarding," said Col. Murray Thompson, a dentist and officer in charge of SDARNG team. "We were able to see different methods of medical care unique to that area. We do not get a lot of exposure to jungle medicine in South Dakota, so I know the medical team learned and saw unique and challenging situations."
Once the team arrived to Suriname's capital city of Paramaribo, they had only one day to plan and prepare equipment and supplies for the daily trips to Albina, about 90 miles away.
"This mission was put together in a hurry," said Thompson. "In fact, we were not exactly sure of which equipment we had available as it had to be shipped down early without us being able to look at it due to a blizzard and moving drill that weekend.
"We had to find and borrow local dental instruments, supplies and disposable gloves," continued Thompson. "Basically, everything we were doing had never been done before in that area. We did not even know exactly what the facility looked like until one hour before we began seeing patients.
"This was an excellent exercise in mission planning on the fly and execution of that mission with minimal supplies," he added.
According to Ottenbacher, each day they linked up with the Surinamese team at the local military base then traveled together to a newly constructed medical facility in Albina, a town of approximately 5,000 people.
"The local military would assist in organizing the patients and sorting those who needed dental vs. medical care," said Ottenbacher. "There were lines waiting for the team every morning. Organization was a critically necessary step."
Over the three days, the team saw nearly 300 patients for a variety of medical needs – from minor body aches and pains to more severe cases.