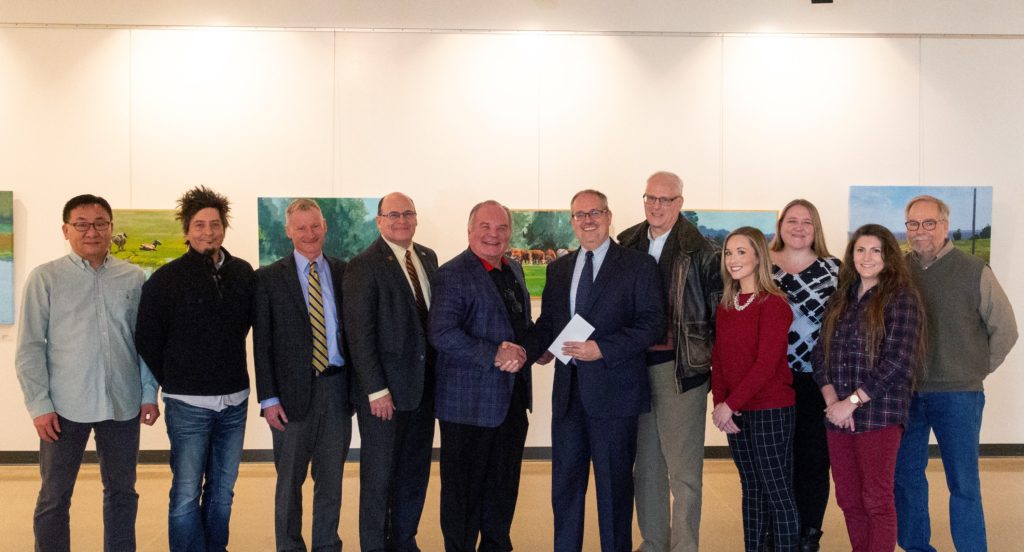 Pictured in the group photo, left to right: Keum-Taek Jung, NSU Associate Professor of Art; Derek Decker, NSU Lecturer of Art; Dr. Michael Wanous, NSU Provost and Vice President of Academic Affairs; Dr. Tim Downs, NSU President; Richard Morrison, MFG CEO; Dr. Kenneth Boulton, Dean, NSU School of Fine Arts; David Giovannini, Aberdeen MFG Senior Vice President; Kelli Fritz, NSU Foundation Director of Development; Nadya Preszler, NSU Instructor of Art; Alexis Doerr, NSU Lecturer of Art; and Peter Kilian, NSU Professor of Art/Chair, Department of Art and Theatre.
ABERDEEN, S.D. (Press Release) – A significant gift of $30,000 from Molded Fiber Glass Cos. will be used to create an outdoor art pavilion on the Northern State University campus.
The Molded Fiber Glass South Dakota Pavilion will be located east of Spafford and Dacotah halls. MFG CEO Richard Morrison and Aberdeen MFG Senior Vice President David Giovannini were on campus Monday to finalize the donation.
"I am delighted to present you with this," Morrison told those attending Monday's gathering, including NSU President Dr. Tim Downs, Provost Dr. Michael Wanous and School of Fine Arts faculty members. "We want to support our local communities."
MFG, which broke ground in Aberdeen in November 2007, strives to have good community relations, Morrison said. Giovannini said as a corporation, MFG believes in the importance of the arts, and this donation represents that belief.
"The fine arts at Northern has been an excellent program for many years," Giovannini said.
The outdoor sculptural pavilion will showcase art being produced by Northern students, faculty and visiting artists. Designed with a translucent roof that merges with the wall, the structure will be open on three sides with an integrated work surface.
The idea was to provide extra, practical space for students to work on larger projects, and provide a space for them to work outside, said NSU Professor of Art Peter Kilian. The pavilion will also open up the art-making process to visitors and passers-by, said NSU School of Fine Arts Dean Dr. Kenneth Boulton.