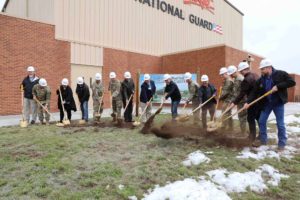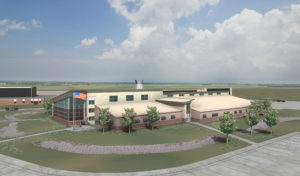 RAPID CITY, S.D. (By Sgt. Dustin Jordan, SDNG Public Affairs Office) – The South Dakota National Guard broke ground, May 22, on a new $20 million Army Aviation Readiness Center, which will enhance training and readiness for National Guard forces for decades to come.
The 58,714 square foot readiness center will be adjacent to the SDNG's Army Aviation Support Facility and will feature training classrooms, administrative offices, equipment storage space and military vehicle parking.
"This ceremony represents a decade of planning to bring this facility to a reality," said Lt. Col. Martin Yost, Construction and Facilities Management Officer for the SDNG.
Lt. Gov. Larry Rhoden, Rapid City Mayor Steve Allender, Maj. Gen. Tim Reisch, adjutant general for the SDNG, as well as senior SDNG officials and local government and business leaders, were on hand for the ceremony.
"Having the right sort of facilities in place for our Soldiers is important," said Reisch. "It's a real pleasure to be here to help break the ground for this new facility."
"The South Dakota National Guard on a global scale is a big deal and it's certainly a big deal in South Dakota and Rapid City," said Allender.
Funding for the new facility is a shared cost with $15 million from the federal government and $5 million from the state.
"One of the biggest ways that we can support the National Guard is with readiness," said Rhoden. "This project is an enhancement to an already outstanding organization."
"I hope the (South Dakota National Guard) sees this project as a sign that this state believes in you, and that we value the work that you do," added Rhoden. "You are the best option that South Dakota has in protecting its liberties and we will continue to support you."
In addition to providing better training and readiness capabilities for Soldiers, the state-of-the art facility is also designed to meet LEED Silver criteria – making the building energy efficient and environmentally friendly.
The readiness center will also include a geothermal heat exchanger for heating and cooling, automated temperature control monitor, anti-terrorism/force protection measures, security fencing and site lighting.
The readiness center is expected to be complete in the spring of 2021.