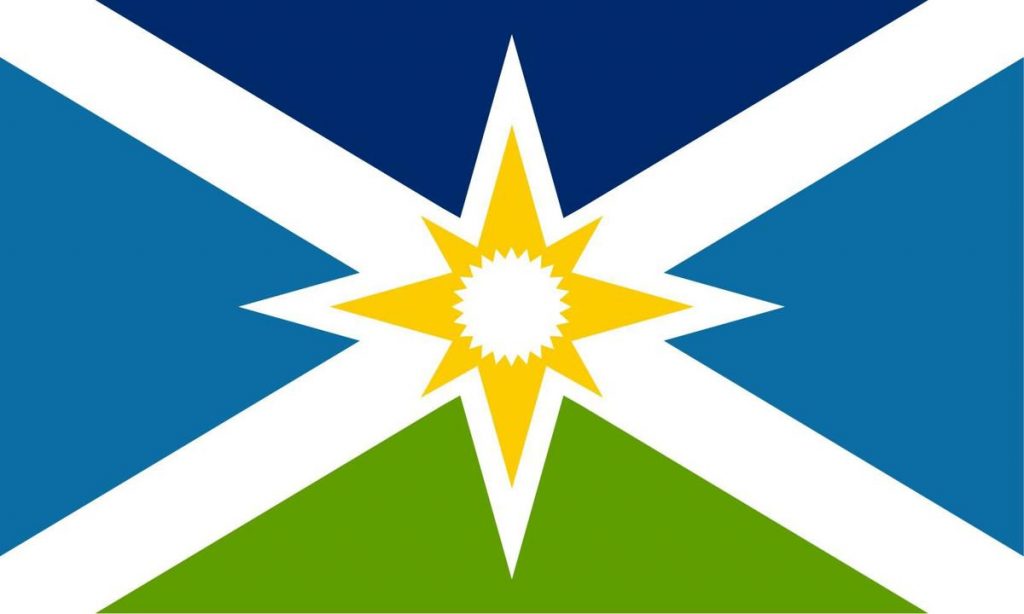 Aberdeen's newly designed city flag has some design elements that hint to its railroad history and connection to agriculture. Image courtesy of the Aberdeen Area Chamber of Commerce
ABERDEEN, S.D. (By Elisa Sand esand@aberdeennews.com) – Aberdeen has a newly designed flag with a color scheme and elements showing its connection to agriculture and the railroad.
Development of a new flag was part of the bid Pinned Workshop submitted to create a new logo and slogan for the city. That bidding process was conducted by the Aberdeen Area Chamber of Commerce, Aberdeen Downtown Association, Aberdeen Area Convention and Visitors Bureau and Aberdeen Development Corp.
Tiffany Langer of Pinned was hired to develop the new slogan and logo at a cost of $13,000. She is a city councilwoman-elect. She starts July 1.
Langer announced the city's new slogan and logo in May and unveiled the new flag design at Monday's City Council meeting.
The design process included two community votes — one in which people selected words that described Aberdeen and a second that gave voters three options to pick from.
The winning design features blue from South Dakota's flag and a background pattern that echos Scotland's flag, which is blue with a white X that stretches from corner to corner. The green in the flag represents agriculture.
A yellow starburst in the center also coincides with railroad points, Langer said.
She said there's been some talk of Aberdeen already having a flag and gestured to one hanging in the City Council chambers. But, she said, it's yet to be determined if that flag was adopted as the city's formal flag. That will take some more research.
So far, Langer said the city been able to determine the previous flag was created through an Exchange Club contest in the 1980s.
Chamber Director Gail Ochs said it's possible the first flag features a city seal, and that seal would not be replaced with the adoption of a new city flag.
But there is a desire to return to the council and ask for official adoption of the new design as the city flag, Langer said. No action such action has been taken.
(visit www.aberdeennews.com)