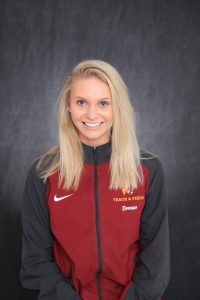 RESTON, V.A.(Press Release)– Northern State University's Tava Berg will be honored by SHAPE America-Society of Health and Physical Educators as a Major of the Year during the organization's 135th National Convention and Expo, which will be held virtually April 13-17.
The award celebrates outstanding undergraduate students in the health, physical education, recreation and dance professions who are nominated by a faculty advisor or professor. Berg will be recognized on Tuesday, April 13, during the Opening General Session.
"The outstanding achievements of future professionals like Tava, is integral to the future of SHAPE America and our profession," said SHAPE America President Brett Fuller of Milwaukee (Wis.) Public Schools, in a press release from the organization.
Berg, who will graduate with a B.S. in Human Performance and Fitness in December 2021, said her academic career at NSU has been very impactful on her life.
"I feel as if my university and professors have set me up for a successful future in my career of choice. I have been studying general courses, Human Performance and Fitness courses, and pre-nursing courses through my university," said Berg, from Watertown. "My professor, Dr. Chelsee Shortt, a few classmates and I received a grant for an undergraduate study just before COVID hit. We started our study and unfortunately, we were shut down. However, we adjusted and finished our study this fall (post COVID shutdown)."
In addition to her studies, Berg also jumps for Northern's track team, honored with All-American status, finishing fifth in the nation in the 2021 indoor season. In January 2022, she will enter Northern's accelerated nursing program through South Dakota State University.
"I am honored to be chosen for this award. Dr. Chelsee Shortt recognized my hard work inside and outside of the classroom," Berg said. "It was her that impacted my effort in the classroom. She made learning fun and exciting to actually be in class. Receiving this award shows me that my hard work has not gone unnoticed."
Shortt, Assistant Professor of Exercise Science and Physical Education, said Berg is an outstanding student.
"She truly defines the Northern undergrad and what it means to 'unleash your potential,'" Shortt said. "Tava takes advantage of learning opportunities in and out of the classroom. She embraces challenge and adapts to achieve her goals. I nominated Tava for Major of the Year because she exemplifies excellence as a student, in her community and as a future professional."
About SHAPE America
SHAPE America – Society of Health and Physical Educators is the nation's largest membership organization of health and physical education professionals. Since its founding in 1885, the organization has defined excellence in physical education, and our National Standards for K-12 Physical Education serve as the foundation for well-designed physical education programs across the country. We provide programs, resources and advocacy to support health and physical educators at every level, from preschool to university graduate programs. For more information, visit Shape America online. For more information about SHAPE America's National Convention and Expo, visit the website and follow #SHAPEVirtual.
About Northern State University
Northern State University is a student-centered institution that provides an outstanding educational experience, preparing students through the liberal arts and professional education for their future endeavors. A regional university, Northern offers rigorous academics; diverse civic, social and cultural opportunities; and a commitment to building an inclusive environment for all points of view. Northern also offers a broad-based athletics program, sponsoring 15 NCAA Division II intercollegiate varsity sports that compete in the Northern Sun Intercollegiate Athletic Conference (NSIC). The university strives to enrich the community through partnerships such as its Educational Impact Campaign, which opened a new South Dakota School for the Blind and Visually Impaired; new athletic and recreation fields; and, soon, an on-campus regional sports complex. With the $55 million campaign, NSU has been the recipient of more than $120 million in privately funded building projects and scholarships within a decade. To learn more, visit NSU Admissions.