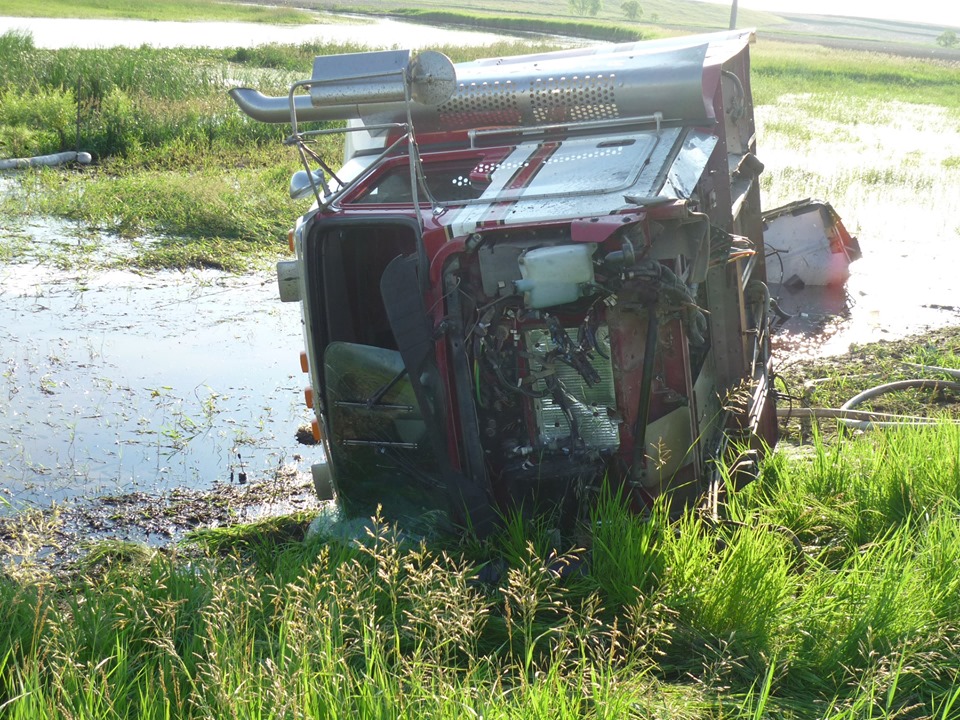 ESTELLINE, S.D. (KXLG) — Wednesday afternoon deputies with the Hamlin County Sheriff's Office were dispatched to a semi rollover crash about two miles south of Estelline. The accident was reported shortly before 5 p.m. The driver of the semi wasn't hurt, however the vehicle was carrying about 500 gallons of farm chemicals and 200 gallons of diesel that spilled into the water-filled ditch adjacent to the Big Sioux River. The crash is being investigated by the South Dakota Highway Patrol and clean up operations are being supervised by the Hamlin County Emergency Management office and the U.S. Environmental Protection Agency. EPA On-Scene coordinator Craig Giggleman commended Hamlin County responders for their quick response.
Complicating the clean up is the high water in Hamlin County following the spring flooding.
He said there's always a possibility that some chemical found it's way into the main channel of the river, but that it appears they have managed to contain most, if not all of the contaminants.
When asked if there was any danger to the public Giggleman said they didn't have the data yet to make a comment.  In the meantime The EPA is continuing to pull water samples from the Big Sioux River South of Estelline for lab analysis. Additional sampling will be done in about a week. It's expected they will begin soil removal once the area dries out. Approximately 200 gallons of diesel and 500 gallons of herbicide spilled into the ditch. Those individuals will meet with the South Dakota Department of Environment & Natural Resources (DENR) to continue to assess and provide oversight with the spill.