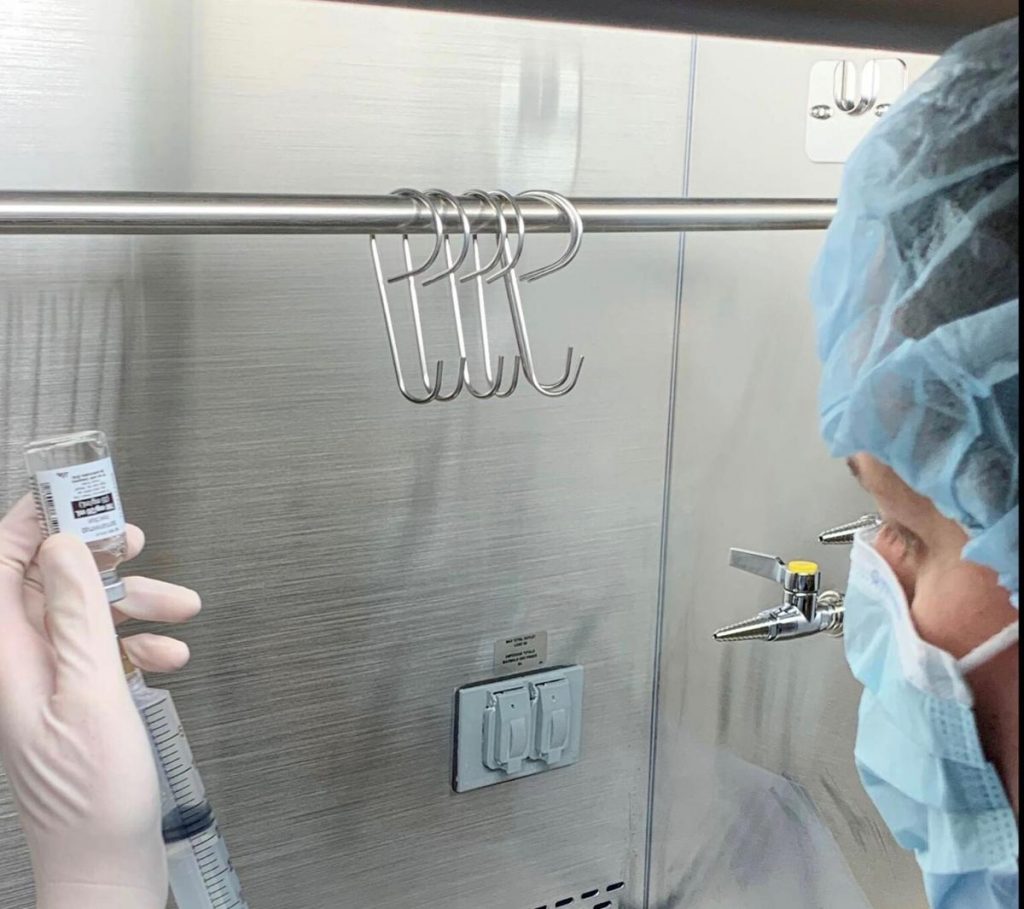 A monoclonal antibody treatment using bamlanivimab is available locally through an IV infusion. (Photo courtesy of Sanford Aberdeen Medical Center)
ABERDEEN, S.D. (By Elisa Sand esand@aberdeennewscom) – An antibody treatment for COVID-19 given emergency use authorization by the Food and Drug Administration in November is now being offered as a local treatment option.
The drug, using Bamlanivimab, is available through an IV infusion. The first treatment at Sanford Aberdeen Medical Center's designated outpatient clinic was given Dec. 13.
Ashley Hansen, pharmacy manager at Sanford Aberdeen, said that as of Tuesday, 79 patients had received the treatment, which is available through the South Dakota Department of Health and offered at no cost to patients.
It's been given at Avera St. Luke's Hospital since Nov. 13, when it was first issued to a patient at the Avera Cancer Institute. Since then, it's been given to 19 residents at Avera's long-term care facility.
"We've been giving it ever since," said Alvin Haugen, director of Avera St. Luke's Pharmacy, in a statement to the American News. "Systemwide, monoclonal antibody therapy is seen as one more tool that helps high-risk patients overcome and prevent serious illness — thus also avoiding hospitalizations due to COVID-19."
Hansen said patients who test positive for COVID-19 and meet specific criteria can receive the infusion, which takes about an hour. The idea, she said, is to introduce synthetic antibodies that will then help patients fight mild to moderate COVID-19 symptoms and prevent the disease from progressing in an effort to keep those symptoms from getting worse and going to the hospital.
"Every day we look at any positive patients to see if they meet the criteria for antibody therapy," Hansen said.
Patients who do are called and offered the treatment, she said. They can get it at the outpatient clinic.
According to the statement from Avera, use of monoclonal antibodies is highly encouraged as an outpatient COVID-19 treatment whenever possible. The antibodies are designed to neutralize COVID-19 in moderately ill patients by attaching to the surface protein of that coronavirus, SARS-CoV-2, and attempting to block it from infecting cells.
Early use shows that monoclonal antibodies greatly reduce the amount of virus found in nasopharyngeal swabs and alleviates symptoms faster, according to Avera. Some patients treated with monoclonal antibodies have also been shown to need fewer hospitalizations or emergency room visits.
Patients who can receive the treatment include those who:
Have a body mass index greater than 35.
Are older than 65.
Take medication that suppresses or weakens the strength of the immune system.
Have underlying health conditions like hypertension or chronic lung disease.
Are between the ages of 12 and 17 weight at least 88 pounds.
Another key qualifier is when COVID-19 symptoms start. Hansen said patients receive the treatment within the first 10 days of symptom onset. She said that means someone who comes to the clinic with symptoms they've been dealing with for about a month would not be able to receive it.
For that reason, she said, it's important to be tested sooner rather than later.
The treatments are given at the clinic at Sanford Aberdeen Medical Center in a space designated for COVID-19 patients.
Hansen said when it comes to COVID-19 treatments, many of the medications are given to treat a patient's symptoms. But, she said, this is different.
"This is a medication that really neutrals the virus and helps them fight," she said.
The goal is to reduce the number of patients whose symptoms would require more medical attention.
Hansen said patients who receive the treatment are monitored to see if they are later admitted. One or two have ended up in the hospital, she said.
"It's been certainly something the providers have seen as a positive," she said.
While nearly 80 Sanford patients have accepted the treatment option, Hansen said, not everyone has. For example, she said, a younger patient who feels relatively healthy and has few symptoms might pass. That's OK, she said, but if symptoms get worse they might then be outside the window of opportunity to take it.
Hansen said the antibodies introduced through the treatment offer a passive immunity, and anyone who receives the treatment must wait 90 days before receiving a vaccine.
Follow ElisaSand_AAN on Twitter.