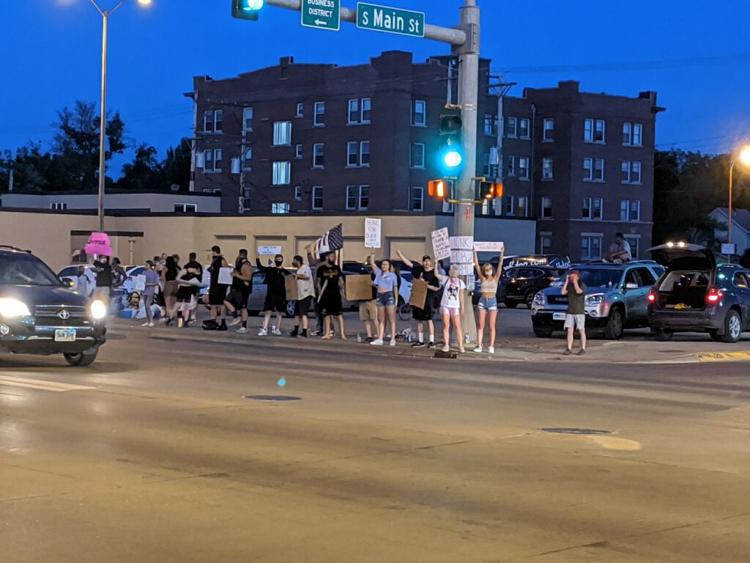 Protesters at the intersection of South Main Street and Sixth Avenue Monday night in Aberdeen. American News photo by Scott Waltman
American News photo by Scott Waltman
ABERDEEN, S.D. (By Scott Waltman swaltman@aberdeennews.com and Elisa Sand esand@aberdeennews.com) – Protesters sparked by the May 25 death of George Floyd in Minneapolis remained at the intersection of South Main Street and Sixth Avenue as 11 p.m. approached Monday.
The group chanted "Black lives matter;" "No justice, no peace, prosecute the police;" "I can't breathe;" "Hands up, don't shoot" and other slogans at vehicles passing by on Sixth Avenue. The protestors were greeted with horn-honking, likely a mix of approval and disagreement.
It was the third straight day with a protest in Aberdeen, and certainly the largest gathering.
For Emily Meier of Aberdeen, it was also her third day of protests, which included the peaceful march in Sioux Falls Sunday afternoon before there was nighttime violence.
Her goal, she said, is to show support and make people aware of the issue.
Shanise Parker, a mother of four and a nurse health aid, said she felt compelled to go to the Monday protest.
"I don't know what it is. Being a woman of color and knowing what happens and how. It saddens me," she said.
Parker said she's felt a host of emotions — sadness, anger and concern. She's lived in Aberdeen two years, but didn't see such a demonstration ever happening.
"I didn't think Aberdeen had it in them," she said.
Parker was at Sunday's Aberdeen protest and again Monday evening with her kids.
Sunday evening, she said, there was name-calling, eggs were thrown at protesters and those against the Black Lives Matter movement stopped by.
But, she said, she returned Monday to show demonstrations can be peaceful and to show her kids that demonstrations can make a difference.
"I'm proud of this," she said. "I feel the love out here … I want people to take away when it comes to humanity there is no color. We are all God's people."
The crowd was largely comprised of young people.
Police kept tabs on the group of roughly 60 — it was larger earlier in the night, per an American News staffer on the scene — by driving by and likely watching from elsewhere, but there did not appear to be any confrontations as of 10:45 p.m.
Protesters held signs and moved from one side of the street to the other, arriving and leaving causally. They had supplies of water and some food, a possible indication the protest could last into the night.
A man with a bullhorn encouraged the crowd to remain peaceful and in check. He said there were local businesses nearby that members of the crowd appreciate and patronize.
There did not appear to be any injuries or major incidents as of 10:45 p.m. However, there were reports of a vehicle window and a business window damaged to the south of the protest.
From the fringes of the rally, people watched, both from their vehicles and standing in the warm night air. Protests in Aberdeen are not common.
McNeil speaks to council
Earlier in the evening, Chief Dave McNeil of the Aberdeen Police Department was asked by the city council about the protests happening elsewhere and if something similar is expected locally.
McNeil said his office took multiple calls from citizens Monday relaying rumors of protests and riots.
"There's nothing specific about anything violent or any type of riot or protest," McNeil said.
The office has also had inquiries about possible locations for future events, which he said is appreciated. With nothing confirmed, McNeil said the police department met with other agencies to discuss and plan for events and how to respond.
"They key was communication," McNeil said. "We're fully staffed and tuned to the situation. … There will be groups. We're aware and trying to stay on top of it. We're trying to stay visible and patrol for the citizens of Aberdeen."