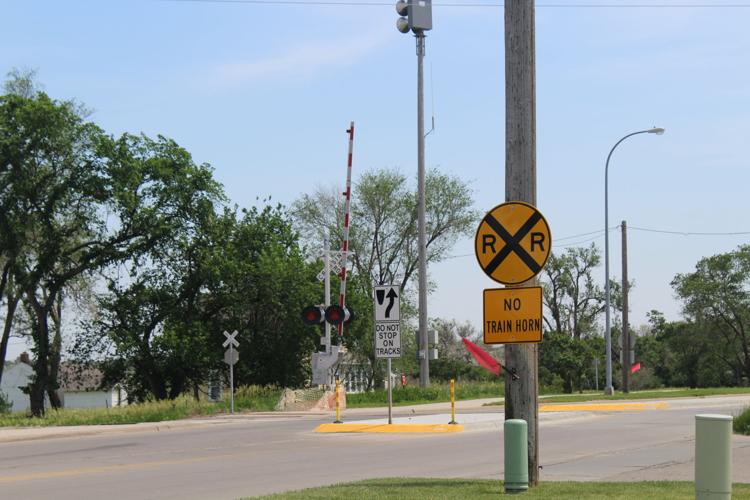 The railroad crossings on North Roosevelt Street and Eighth Avenue Northeast are both now designated as quiet crossings. (American News photo by Elisa Sand)
ABERDEEN, S.D. (By Elisa Sand esand@aberdeennews.com) – Folks who live and work in the neighborhood near the intersection of North Roosevelt Street and Eighth Avenue Northeast might have noticed something missing this week.
Trains are no longer required to use their horns when crossing those two streets because the crossings are now in a designated quiet zone.
There are two rail crossings near the intersection — to the east and to the south — as the track cuts diagonally.
The designation has to be reviewed by BNSF Railway and approved. City Manager Lynn Lander said it also goes through an annual review.
It doesn't apply to the remaining nine rail crossings in Aberdeen. Lander said the city pursued the quiet zone designation for the two crossings because the rail line is separate from other lines in town and because it's a relatively short stretch that could be upgraded to meet the requirements.
Both Lander and Public Works Director Robin Bobzien said improvements are needed to the rest of the crossings in town in order for the city to pursue a citywide quiet zone. It's a costly proposition. Each crossing must have flashing lights and cross arms that drop when there's a train. There must also be raised medians on both sides of the crossing.
Bobzien said the raised medians were added on North Roosevelt Street and Eighth Avenue Northeast at a cost of about $50,000 each.
The purpose of the medians is to prevent traffic from going into the opposite lane to drive through the cross arms when they are down.
Raised medians are also in place at the County Road 19 crossing, he said, and will be added to the rail crossings at State and Dakota streets.
"After State and Dakota, we have three more let to do," Bobzien said.
About one train per day passes through the North Roosevelt Street and Eighth Avenue Northeast crossings. They are going to or leaving the AGP soybean processing plant on the northeast edge of town. Bobzien said traffic for the plant could increase, and additional trains could pass through heading to or from the elevator in Britton.
"There's potential for several (trains) a day," he said.
Advanced warning
Another development expected later this year is an advanced warning system to alert drivers that a train is crossing at North Roosevelt and Eighth Avenue Northeast. Bobzien said the system will have alerts set up at the intersections of:
South Roosevelt Street and Milwaukee Avenue.
15th Avenue Northeast and North Roosevelt Street.
North Dakota Street and Eighth Avenue Northeast.
County Road 19 and Eighth Avenue Northeast.
The industrial park exit on Eighth Avenue Northeast.
Lander said the goal is to have the system in place later this year.
Bobzien said bidding was initially planned in March or April, but that's when travel was becoming difficult with COVID-19. Now, he said, he's hoping to bid it by September with installation in fall and winter.
With the system in place, Bobzien and Lander both said, drivers will get advanced notice if there's a train so they can plan an alternate route. The system is expected to cost $100,000 to $150,000.
(visit www.aberdeennews.com)