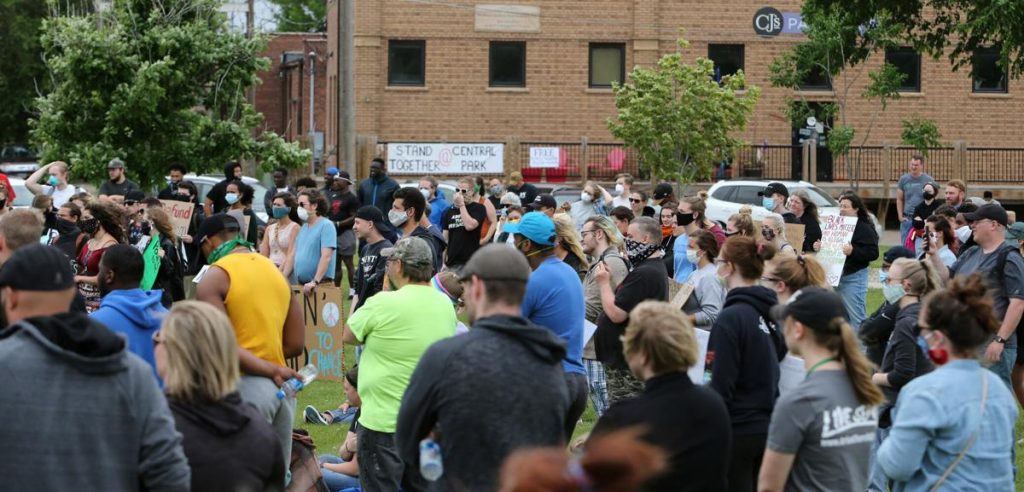 About 200 people took part in Saturday's Stand Together in Central Park, a peaceful protest against injustice. (American News Photo by John Davis)
ABERDEEN, S.D. (By Elisa Sand esand@aberdeennews.com and Scott Waltman swaltman@aberdeennews.com) – Gray clouds, wind and occasional raindrops didn't deter a gathering of around 200 people Saturday afternoon at Stand Together at Central Park.
Attendees heard personal stories, but the overarching message was clear — civil rights work that started in the 1960s isn't finished, and the diverse group of people assembled needs to be the voice for change.
The event started shortly after noon and organizers Damian Mann, Corey McIntosh and Simone Ochotorena were among the nine speakers.
Ron Parker, who has lived in Aberdeen for 14 years, gave an opening prayer, asking that the words spoken would not fall on deaf ears.
"I feel really good to be here in this moment," Parker said. "I see you here my brothers and sisters, and I am filled with hope."