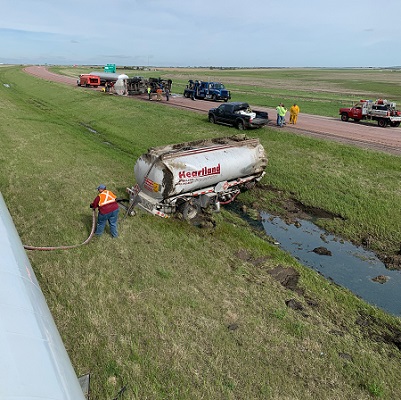 OACOMA, S.D. (DRG News) – The westbound lanes of Interstate 90 between Reliance and Oacoma were closed for about seven hours Monday after a semi tanker hauling diesel rolled, spilling several thousand gallons of fuel.
According to the South Dakota Highway Patrol, 39-year-old Ryan Budahl of Emery, SD, was westbound driving a 2015 Cascadia Freightliner with tanker trailer and pup tank trailer around 5:30 a.m. The semi entered the median and Budahl overcorrected. The pup tank trailer broke away and stayed in median, but the semi and tanker trailer rolled onto the driver side and blocked westbound I-90. An estimated 7,000-8,000 gallons of diesel fuel spilled.
Budahl received minor injuries. He was not wearing a seatbelt and charges are pending.
Interstate was blocked from about 5:30 a.m.-12:30 p.m. Several state and local agencies were involved in the response and cleanup.