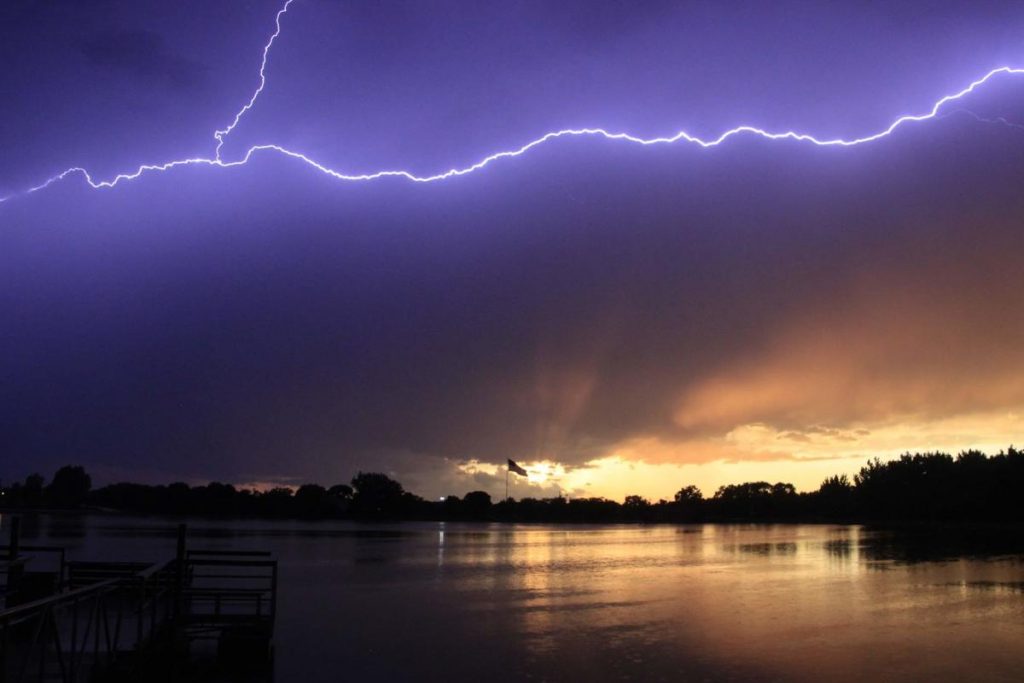 Bolts of lightning across the sky were a common sight Saturday evening. Courtesy Photo by Mike Scott
ABERDEEN, S.D. (By Elisa Sand esand@aberdeennews.com) – An Independence Day light show from Mother Nature yielded little rain for the Aberdeen area, but some intense wind gusts.
And, the strongest wind gusts came after the storm passed through — a scenario weather officials call a wake low.
Mike Connelly, meteorologist for the National Weather Service in Aberdeen, said a wake low is when strong winds form after a thunderstorm passes through the area. Those winds gusts were 60-70 miles per hour with some peak gusts at 80 miles per hour. Some hail was also reported that was a quarter to golf ball size.
Connelly said winds at Richmond Lake reached 58 miles per hour and Mina Lake saw 66 mile per hour winds with at least one camper tipped over.
Brown County Emergency Management Director Scott Meints said no one was injured in the camper since those using the camper had taken shelter. But there were quite a few uprooted trees, and boats and boat lifts that were flipped this morning. The power was also out for about two hours, said Meints, who was also camping there Saturday night.
The camper belonged to Randy and Korine Grismer. The two were camping with their two daughters and one of their friends. In a phone interview Sunday, Randy Grismer said the camper is totaled, but they are safe. They took shelter with about 40 other campers in the restroom until the storm passed. That was around 8 p.m.
If there's one takeaway, he said, it's to heed the storm warnings and take shelter. Had someone been in the camper, he said, they would have likely been injured or trapped, since the camper rolled onto the slide out, pushing it back in to the camper.
"The flip would have pinned them in the bunkhouse," Grismer said of the children.
While the camper likely isn't salvageable, Grismer said, about half the items inside were. And, he said, the damage wasn't worse.
Sirens that sounded in Aberdeen Saturday evening were a precaution, Meints said. At that time there were predictions of 80 mile per hour winds and a couple reports of funnel clouds, he said. The sirens, he said, were a warning for those who were outside to make them aware of the severe weather.
Saturday's thunderstorm formed along the South Dakota and North Dakota state line and moved south until it dissipated around Miller. Connelly said that's where the heaviest rain reports came in with 3.35 inches in Miller and 4 inches in St. Lawrence.
Bowdle recorded 2.5 inches, he said. About .01 inches to .14 inches were recorded in Aberdeen.
Connelly noted multiple trees down in Aberdeen Sunday morning.
Lois Flanigan of Aberdeen said she lost part of a tree as well from a sizable ash in her backyard on North Arch Street. The trunk of the ash was split in three sections, she said, but only one fell, and it caused little damage, she said.
It landed leaning on another tree, she said. Had it fallen further it could have damaged their rock fireplace or grapevines. And, she said, if other sections had fallen, they could have seen damage to their shed, power line or house.
"Luckily the one part that fell was the part that did the least damage," she said.
While there were brief periods of rotation within the storm, Connelly said, the National Weather Service has no confirmed tornadoes at this time. A National Weather Service employee is out surveying damage, however.
"There's about a daily chance of storms this week," Connelly said.
(visit www.aberdeennews.com)