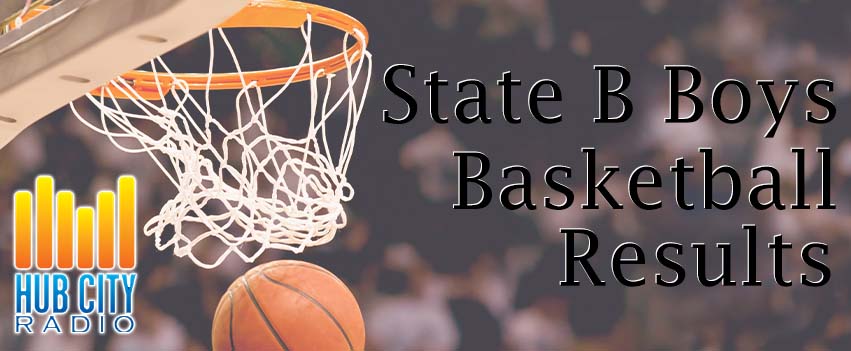 Follow along as Ryan Martin covers the teams from the Hub City Radio's  listening area at the High School State B Boys Basketball Tournament on March 17-19th in Aberdeen, SD. Listen on air and follow hubcityradio.com for updates throughout the weekend!
Updated results are courtesy of the Primrose/Hub City Sports Network.
Final Score: DeSmet Bulldogs 60 Waubay-Summit Mustangs 28
Next up: Potter County vs. Aberdeen Christian
We got 3:36 left in 1st Half as the Potter County Battlers lead the Aberdeen Christian Knights 24-16
At the half 29-22 Potter County leads Aberdeen Christian by 7
Potter County leads 38-26 4:12 left in 3rd
End of 3rd: Potter County 47 Aberdeen Christian 36
We got 4:18 left in the contest. Potter County 51 Aberdeen Christian 43
Lower Brule Sioux vs. Castlewood Warriors @6:00 pm
The Lower Brule Sioux off to quick start up 8-2 over Castlewood
Got 3:48 left in 1st half Castlewood 25 Lower Brule 14
End of 1st Half Castlewood 27 Lower Brule 23
End of 3rd Lower Brule Sioux 40 Castlewood Warriors 39
4:25 left Lower Brule Sioux 43 Castlewood Warriors 42
1:24 left Sioux lead Warriors 44-42
Got 14.2 Left Lower Brule 46 Castlewood 45
We got overtime Sioux 48 Warriors 48 in some exciting Class B Action
White River Tigers vs. Freeman Academy/Marion Bearcats @8:00 PM
End of 1st quarter Score: White River 20 Freeman/Marion 12
Halftime Score
White River Tigers 33
Freeman Academy/Marion Bearcats 23
End of 3rd White River 49 FAM 48
1:16 left White River up 6
Joe Sayler with 39 only a point away from breaking 1st Rd scoring mark held by Louie Krogman with 40
Joe Sayler with 43 points which is the most All-Time in State Tournament History in 1st Rd games
Final Score: White River Tigers 75 FAM 70
Day 2 Aberdeen Christian vs. Waubay Summit @Noon
4:04 left in 1st Mustangs lead Knights 9-5
2:04 left in 1st Mustangs go on a run. UP 15-8
End of 1 Mustangs up by 10 over Knights
End of 1st Half as the Mustangs are on fire up 18
Aberdeen Christian 18 Waubay-Summit 36
End of 3rd Aberdeeen Christian 31 Waubay Summit 46
Final Score: 1st Consolation Semi
Waubay- Summit Mustangs 56
Aberdeen Christian Knights 42
Next up FAM vs. Castlewood
2:55 left in 1st Half Warriors up 6 on the Bearcats
At the half Castlewood up 33-24 over the Bearcats
3:44 mark in 3rd Warriors lead by 8 over Bearcats
End of 3rd Castlewood Warriors lead FAM Bearcats 47-34
Final Score:
Castlewood Warriors get the WIN vs. FAM Bearcats 64-48
State B Boys Basketball Semifinals
Potter County vs. DeSmet @6:00 pm from Don Meyer Court
Bulldogs up 5-0 early in 1st
End of 1st 22-6 Bulldogs
2:15 left in 1st half Bulldogs up 31-14
End of 1st Half Battlers go on a run. DeSmet Bulldogs up 11 at 31-20
1:31 left in 1st Half 47-28 Bulldogs
Lower Brule Sioux vs. White River Tigers
End of 1st Quarter Tigers up 18-16
End of 1st Half
Lower Brule Sioux 31
White River Tigers 32
Sioux up 5 on Tigers at 4:31 mark in 3rd quarter
White River leads by 1 at 5:45 mark in the contest
Tigers lead Sioux 75-74 in Double OT with 47.4 seconds remaining
Triple OT as the both teams are playing their hearts out tied at 77-77
Lower Brule wins and advances to play DeSmet
Day 3 Aberdeen Christian vs. Freeman Academy/Marion
Aberdeen Christian 17 Freeman Academy/Marion 24
End Of 1st half Aberdeen Christian 29 FAM 27
4:35 left in 3rd Knights up 7
1:39 left in 3rd Knights up 49-38
End of 3rd Aberdeen Christian 52 Freeman Academy/Marion 38
4:40 left in 4th Quarter Knights up 61-48
Aberdeen Christians WINS to place 7th
Castlewood Warriors vs. Waubay-Summit Up next
4:29 mark in 1st half 21-17 Waubay-Summit in the lead
At the half Mustangs lead the Warriors 24-17
Were at the 5:39 mark Mustangs lead the Warriors 31-30
Just 20.1 seconds remain with Mustangs up by 1
Mustangs WIN the Consolation Championship!!!!!!
Final session at the State B Basketball Tournament
4:31 left in 1st Potter County leads 7-6
At the half @Don Meyer Court
White River Tigers 38 Potter County Battlers 28
4:10 mark in 4th quarter Tigers 65 Battlers 59
White River Tigers WIN to secure 3rd Potter County 4th
STATE TITLE GAME @DON MEYER COURT
DeSmet Bulldogs vs. Lower Brule Sioux
4:32 mark in 1st half Sioux lead 17-15
End of 3rd Sioux 26 Bulldogs 33
3:25 mark Bulldogs 41 Sioux 26
Desmet Bulldogs WIN the State Championship!!! 49-26