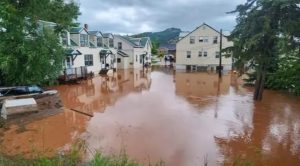 Photo courtesy of Families of Spearfish in Need fundraising page
SPEARFISH, S.D.(KBHB) – Some residents of Spearfish are getting help after flooding on Friday night forced them from their apartments.
Several apartments received damage, including the Brook Haven Estates Apartments, where property manager Patrick Williams says they had some tenants trapped in the building and had to be rescued.
He says affected tenants lost everything.
He and volunteers are helping tenants to find temporary places to stay as cleanup begins. Williams says they're expecting a full renovation due to amount of damage.
A fundraiser has been set up to help those affected by the flooding. Called 'Families of Spearfish in Need,' the page had raised around $700 as of Monday morning. They have set a goal of $20,000.
Katie Bash is organizing the fundraiser. She says along with financial support, they need clothes, food, blankets, pillows and the like.
She says if you have items to donate, you can bring them to the apartments at 421 7th Street.
Bash says they have 8 people who are affected by flooded out apartments.
Heavy rain in Spearfish Friday night led to widespread flooding, with damage reported all around town.