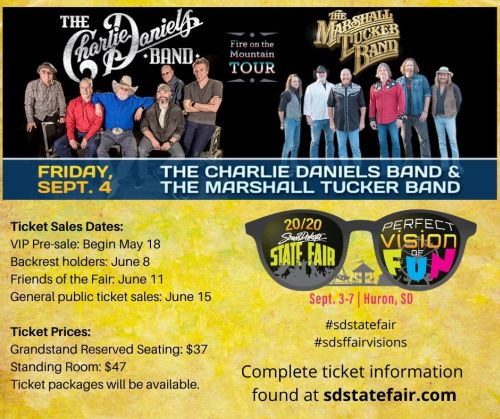 HURON, S.D. (KWAT) — The South Dakota State Fair has announced its first grandstand concert of the 2020 fair.
Assistant Fair Manager Candi Briley made the announcement this morning.
Both bands are known for their mix of country and southern rock music.
The Charlie Daniels Band won a Grammy in 1979 for their signature hit, "The Devil Went Down to Georgia."
The Marshall Tucker Band was formed in the early 1970's, and has recorded hits that include, "Heard it in a Love Song" and "Can't You See."
Briley says tickets go on sale in a few months.
For all things State Fair related, go to www.sdstatefair.com
Podcast: Play in new window | Download