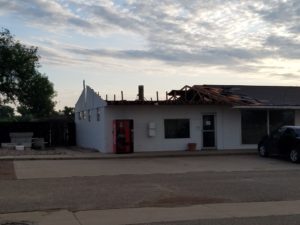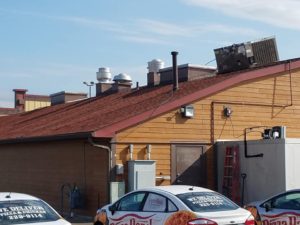 FORT PIERRE, S.D. (KCCR) – A severe storm Wednesday night caused damage to at least two businesses in Fort Pierre. Fort Pierre Assistant Fire Chief Ty Odden says firefighters were toned out to a propane leak call at the Pizza Ranch location on Hustan Avenue around 8 a.m. Thursday morning. Odden says firefighters on arrival found that two roof-mounted HVAC units had been overturned by the storm.
One of the units on the north side of the Pizza Ranch roof had been flipped over the peak of the roof on the buildings east side. Odden says it was natural gas that was leaking from the gas lines that had been ripped away from the HVAC units. Firefighters were able to shut off gas to the building to stop the flow. Gas meters detected minimal levels of natural gas inside the building. A two-inch diameter tree between the street and parking lot had also blown over in the storm.
The other known damage from the storm included a section of roof being blown off the main office building at Morris Incorporated, Fort Pierre contractor. Officially, winds at the Pierre Regional Airport were measured at 64 miles an hour when the storm hit the area.
The Fort Pierre Pizza Ranch was closed as of noon Thursday, but the company says in a Tweet that they hard to repair the damage quickly so they can continue to serve guests. Pizza Ranch will be closed Thursday and may reopen Friday depending on the status of repairs.