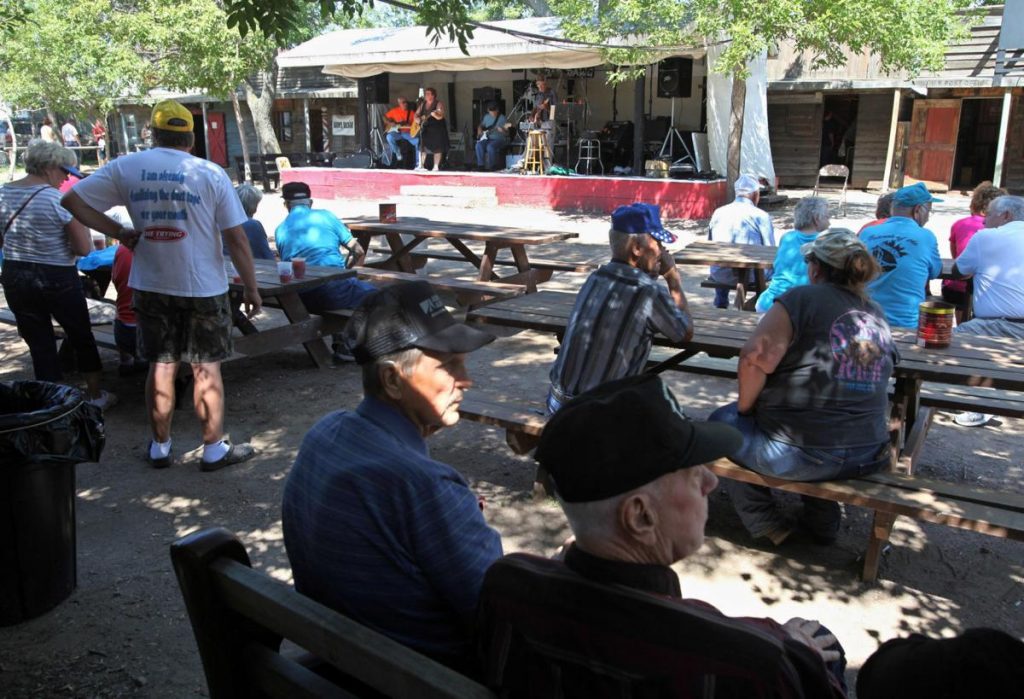 Centennial Village, a popular stop for many fairgoers, will host Brown County Summer Fest in August. The event is being organized in lieu of the county fair, which is not happening because of the COVID-19 pandemic. American News file photo by John Davis
ABERDEEN, S.D. (By Elisa Sand esand@aberdeennews.com) – Residents who are disappointed there won't be a county fair this year will have a lower-key event to enjoy — Brown County Summer Fest.
Brown County Commission Chairwoman Rachel Kippley discussed some of what's in the works at this week's county commission meeting, then offered more details during a phone interview.
She said the events planned at Centennial Village during the week of the fair will still be happening, and there's a group of people working on the logistics.
The fair was planned for Aug. 10-16. Centennial Village, the pioneer village on the south side of the grounds, is a popular stop for many fairgoers. It features food, beverages and live music.
A concert has been booked at the fairgrounds for the week before when the fair would have been. Bad Dawg will open for Hairball with music starting at 7:30 p.m. Aug. 7. Doors to the Odde Ice Center open at 6:30 p.m. The Aberdeen Hockey Association is sponsoring the concert, and tickets can be purchased online at aberdeenhockey.com. Tickets are $20 in advance and $30 at the door.
Last month, the county commission decided there would be no fair this year because of the COVID-19 pandemic. Legally, at least, that move was defined as a postponement so the grandstand entertainment contracts can carry over to 2021.
Many 4-H activities are going virtual this year.
Some county commissioners have noted that community members are yearning for an event in lieu of the fair. That's where Summer Fest comes in.
Kippley said details on specific activities are still coming together. They could include a livestock show, which would feature different animals each day. The idea, she said, is not to keep the animals at the fairgrounds, rather to bring in for a day, show them and have them return home the same day. Organizers are checking on insurance details.
Other groups are interested in organizing a rodeo or bull-riding event, though details aren't set. Kippley said there's also an effort to set up some free tent activities.
She said she's also taken a phone call about having the annual chili cook-off.
"We're open to that as well," she said.
Kippley said those with experience running and organizing events are welcome to help. They can call county commissioners or Derek Ricci, fair manager, at the fair office — 605-626-7116.
There will be a midway carnival, she said, from Aug. 12-15.
At a previous commission meeting Ricci said two carnival companies were combining efforts and would be available for Brown County, though the midway would be smaller than in past years.
Kippley said many food vendors are still interested in setting up that week, and a limited number of indoor vendor spaces will be available. The hockey association has taken over the Odde Ice Center for the rest of the year, leaving just the Holum Expo Building for indoor vendor space.
People who have fair camping reservations have been given the opportunity to roll their reservations to 2021, camp this year or donate their fees to the fair. Those who have grandstand concert tickets can get refunds or use them next year.
Anybody interested camping at Summer Fest can make reservations at the Brown County Auditor's Office. The phone number is 605-626-7110.
(visit www.aberdeennews.com)