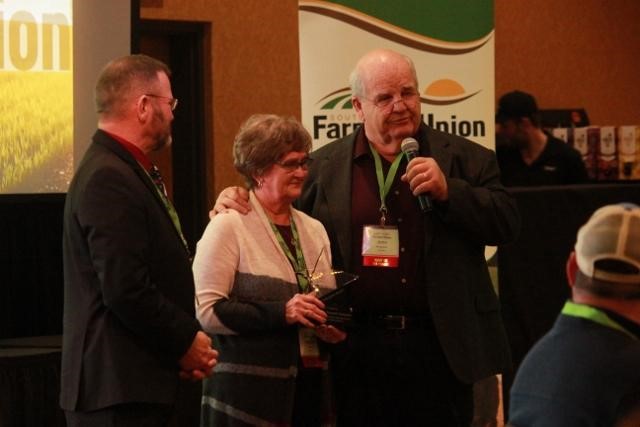 ABERDEEN, S.D. (Press Release) – Brown County Farmers, John and Margaret Sumption were recognized Dec. 10 recognized for their support of rural youth and education with the Star of Education Award by South Dakota Farmers Union (SDFU) during the organization's state convention held in Aberdeen Dec. 10-11.
"Through their time, financial gifts and leadership, John and Margaret have been instrumental in supporting our youth and educational programming and growing the SDFU Foundation," says Karla Hofhenke, SDFU Executive Director.
John and Margaret first became involved in SDFU youth programming through their five sons: Mark, Chris, Eric, Taylor and Warren. "When the boys were young, I enjoyed seeing them get involved in Farmers Union education programs and camps," explains John. In his 70s, John helps his sons in the family crop and cattle operation near Frederick. "I always saw this programming as a resource to help develop leaders for the future of agriculture."
Each year, SDFU state staff and interns host day camps in counties across the state where youth learn about cooperatives, agriculture and farm safety. The organization also hosts district and state camp where youth have the opportunity to develop and practice leadership and team building skills. Throughout the school year, SDFU provides Junior REAL leadership development programming to rural schools throughout the state.
"Supporting South Dakota's family farmers and ranchers means we support the entire family – kids and all. Our youth programming is key to achieving this," says Doug Sombke, SDFU President. "And it takes supporters like John and Margaret to keep this going year after year."
For several decades, Margaret served as Brown County Education Director, coordinating the Brown County Day Camps. "They needed someone and I like working with kids," says Margaret, who worked as a teacher before staying home to raise her sons. A few years ago, Margaret handed off the duty to Mike Traxinger, but she stays connected through many of her 22 grandchildren who remain involved in SDFU Youth programming. "I'm happy the grandkids are involved because the camps teach them about farm safety," she says. "Farm safety is something you can never have too much education about. Farms are a great place to raise kids, but they can be dangerous places too."
Descending from a long line of cooperative leaders, in addition to farm safety, John appreciates the cooperative education provided through SDFU youth programming. "For generations, those of us living in rural communities depend upon cooperatives to provide us with essential services," John explains of necessary services like telephone, electricity, fuel, farm inputs. "Our youth need to learn about the value of cooperatives so they can understand why co-op membership is important."
John adds that he and Margaret continue to support SDFU youth programming because "it encourages rural youth to consider careers in agriculture, whether that's being a farm or working at the local cooperative. As our agriculture industry continues to evolve, we need knowledgeable professionals."
To learn more about SDFU educational programming, visit www.SDFU.org. On the website, you can also read about John and Margaret Sumption's family farm, just click on the SD Farm & Ranch Families link.