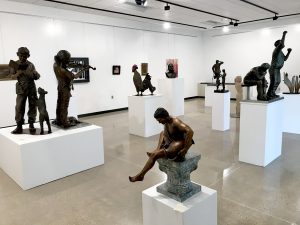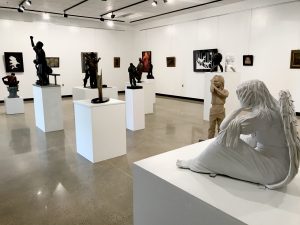 ABERDEEN, S.D. (Press Release) – An exhibition by a pair of Northern State University Art Department alums is currently on display in the Johnson Fine Arts Center Gallery.
"This Is Us," by Lee Leuning and Sherri Treeby, will be on display through Oct. 27. Admission to the exhibition is free, and the gallery is open to the public 8 a.m.-10 p.m. Monday-Friday. Due to COVID-19, there will not be an opening reception.
"This Is Us" embodies the prolific careers of Leuning and Treeby. On display is the mastery of high realism that defines their sculpture practice. Featuring bronze sculptures, paintings, relief sculptures, maquettes and various artwork images, Leuning and Treeby's work captures the stories and legacies of the American spirit.
The Northern Galleries mission is to enhance the beauty, educational opportunities and cultural climate of NSU and northeast South Dakota through the presentation of professional art exhibitions. For more information about upcoming exhibitions and virtual events, visit the NSU Art Galleries webpage or NSU Art Department Facebook page.