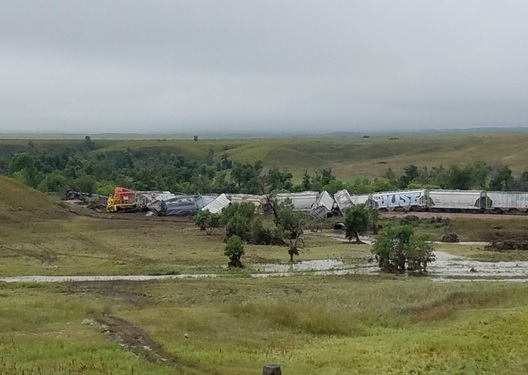 NEW UNDERWOOD, S.D. (Press Release) – Authorities in the New Underwood have responded to another train derailment.
Multiple agencies responded to the scene near Sharpe Road just before 3:00 a.m.
According to a release from the Rapid City, Pierre and Eastern Railroad, the train consisting of three locomotives and 60 loaded cars of clay, cement and scrap metal encountered a significant washout due to flash flooding. The train derailed, with the lead locomotive on its side.
The two-person crew, who were in the lead locomotive, sustained what appeared to be non-life threatening injuries. They were extricated from the train and taken to the hospital for treatment.
This is the second train derailment this summer in the New Underwood area.
On June 27, an R.C.P.& E. train derailed on South A. Avenue, in front of the town's grain elevator.