WATERTOWN, S.D.(KXLG)- The Watertown Police Department is seeking the public's help to locate two Watertown juveniles reported missing early Sunday, October 31st. They are actively searching for them so they can be returned home safely to their families.
Jaden Shroll (17 years old) and her boyfriend Terence First In Trouble (17 years old) are pictured below.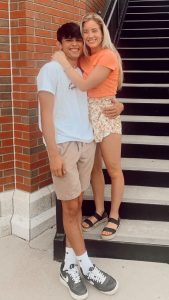 We believe they are in a black 2019 Jeep Cherokee Trailhawk with Watertown Ford plates.
Officer Steve Rehorst gave us complete information.
If you know the whereabouts of Jaden or Terence, you are asked to contact the Watertown Police Department at (605) 882-6210, or you can go online at the Watertown Police Department webpage at www.watertownpd.com to leave an anonymous tip.
Officer Rehorst also reminds the public how you can file missing persons.