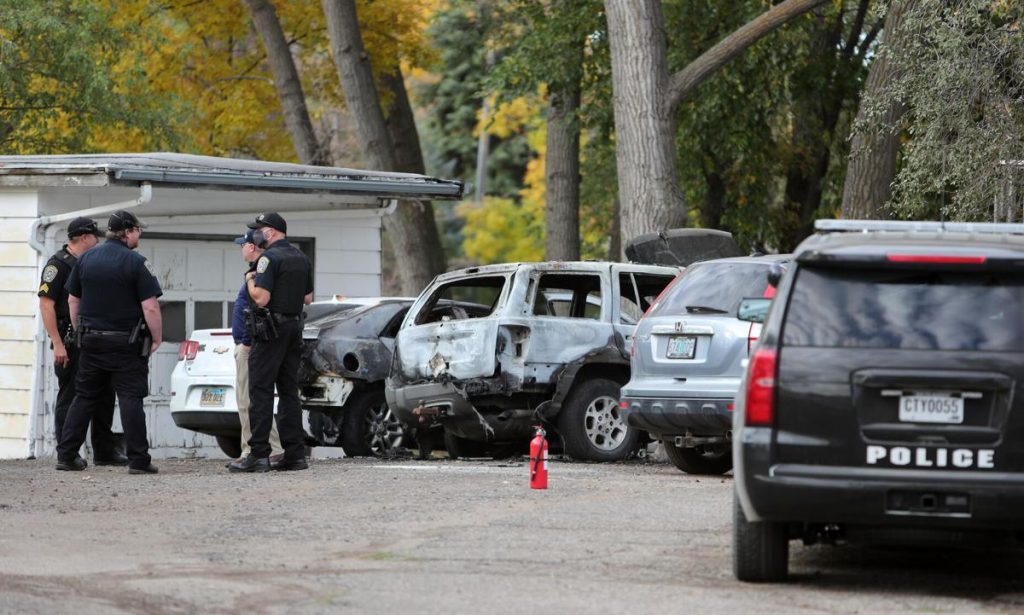 Police and fire officials were on scene Wednesday morning near a vehicle parked outside 1620 Third Ave. S.E. that was destroyed by fire. (American News Photo by John Davis)
ABERDEEN, S.D. (By Elisa Sand esand@aberdeennews.com) – Aberdeen Fire & Rescue is investigating the cause of a fire that destroyed a 1999 Jeep Cherokee Wednesday morning.
The police and firefighters were called to 1620 Third Ave. S.E. at 6:12 a.m. Fire Marshal Chad Nilson said the Jeep Cherokee was discovered on fire and was fully involved when firefighters arrived. The fire also damaged a Chevy Malibu parked next to the Cherokee.
Nilson said the fire not only damaged the outside of the Malibu but got inside the vehicle as well. He estimates that both vehicles are a total loss.
Nilson said the Jeep was not running at the time, and the cause of the fire remains under investigation. Personnel from the state fire marshal's office were also on scene Wednesday morning to assist in the investigation.
A four-unit apartment and garage were nearby the two vehicles. Nilson said the garage was not damaged by the fire, but the apartment building had minor heat distortion on the vinyl siding.
(visit www.aberdeennews.com)